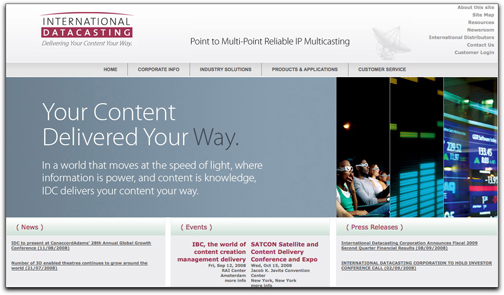 International Datacasting Corporation, (TSX:IDC) will be showcasing its full suite of digital cinema products and presenting a technical seminar at two digital cinema events in Amsterdam.
IDC
will be demonstrating its
Superflex Pro Cinema
line of products to a select group of European digital cinema industry leaders in conjunction with
Cinema Expo International
, (
CEI
),
June 22nd to 25th
, the only pan-European convention and trade show dedicated to the needs of the movie theatre industry. In addition,
Ron Clifton
, IDC's President and CEO, will deliver a technical presentation entitled
Satellite Technology for Digital Cinema Content Delivery
, at the
European Seminar Series
of the
International Cinema Technology Association
, (
ICTA
), in Amsterdam on June 21st. The ICTA European Seminar is held in the days leading up to the opening of CEI in Amsterdam. The ICTA is an international association of professionals in the motion picture industry that promotes open lines of communications and networking with other cinema industry associations.
The Superflex Pro Cinema is IDC's family of modular products that can easily be configured to provide a range of end-to-end solutions for the delivery of both file-based movies and live events over a broadband satellite network. The product line features open standards including the latest
DVB-S2
broadcast technology with a variety of encryption options and plug and play interoperability with terrestrial Internet Protocol (IP) networks. A feature of the Pro Cinema product line is the
3D Live Encoder and Decoder
, with
Sensio 3-D
technology onboard. The SuperFlex Pro Cinema 3D Live Encoder and Decoder supports 2D and 3D live and pre-recorded events, which provides movie houses and other venues with new revenue opportunities via alternative content programming.