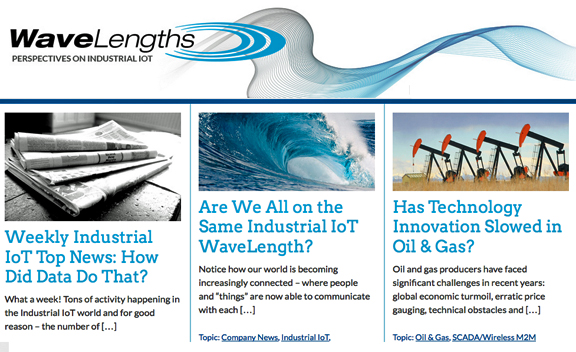 [SatNews] FreeWave Technologies announces the launch of of the firms new blog, "WaveLengths: Perspectives on Industrial IoT."
With analysts pegging the number of connected devices in the tens of billions over the next few years, the accompanying growth of the Industrial IoT (IIoT) is rife for exploration. With "WaveLengths," FreeWave will look to engage a broad community of industry practitioners, journalists, bloggers, analysts, and IoT thought leaders, as well as FreeWave employees. The blog will offer unique ideas and perspectives to become a forum and industry resource that is forward-looking and constructive to the challenges facing the IIoT-at-large.
Available now and over the coming weeks, several blogs covering a variety of IIoT interests will be made available, including industrial drone use, precision agriculture, the convergence of IT and OT in industrial settings, as well as several case studies. Additionally, "WaveLengths" will feature a living list of IIoT resources, including regulations and standards documents, technical papers and frequently updated industry news.
If you are interested in contributing to "WaveLengths," or wish additional information regarding FreeWave, please visit http://wavelengths.freewave.com/.
Executive Comment
"The Industrial Internet of Things is responsible for some of the greatest innovations around the globe, from smart cities, to smart grid development, to automation in our most important energy sectors like oil and gas," said Scott Allen, CMO of FreeWave Technologies. "It's fascinating to us, and we launched "WaveLengths" to both engage our collective curiosity and interest in IIoT, as well as provide a channel for the intelligent and thoughtful voices within the IoT community."