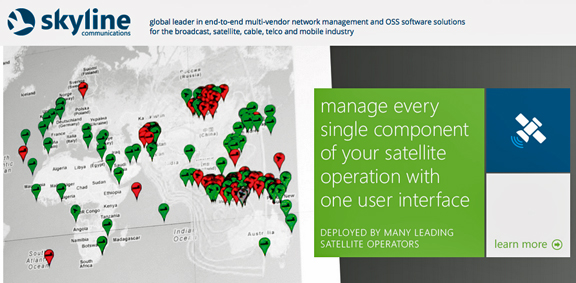 [SatNews] Skyline Communications will be showcasing their latest release of the DataMiner network management platform, as well as some of the company's many cutting-edge solutions, at the upcoming CommunicAsia2015 event in Singapore.
DataMiner is a modular and scalable Network Management System (NMS) that interfaces with any type of device from any vendor. The platform offers full control, alarm management, redundancy switching, performance trending, and service management. Hands-on demonstrations will illustrate how the new innovative capabilities of the DataMiner 8.5 release allow it to be deployed with innumerable different applications: satellite earth stations for SCPC/MCPC and VSAT (including geo redundancy switching), contribution and exchange networks, broadcast studios, master control rooms, broadcast DTH direct-to-home uplinks, satellite IP trunking and fiber restoration, ad insertion monitoring, cable HFC networks, cellular networks and much more.

"DataMiner is deployed by hundreds of leading operators in over 100 countries and is integrated with more than 4,000 devices and systems from more than 500 industry vendors. With a single UI, it allows the management of any possible operation, end to end, seamlessly combining legacy devices and new technology," said Glenn D'Haene, Sales Director EMEA & APAC at Skyline Communications.

Today's media networks are built using a complex mixture of fast-evolving technologies, such as satellite, VSAT, MPLS, SDH, and compression and media processing in the cloud. Hardware and software elements are sourced from a variety of specialized vendors. But in order to remain competitive, operators need to establish unified and highly automated workflows, end to end, across any vendor and technology boundaries. At CommunicAsia 2015, Skyline will showcase real demonstrations of resource and session management across satellite, fiber and cloud infrastructure.


Skyline will also showcase how the DataMiner CPE Manager can be used to connect with your customers, no matter how complex your network. The CPE Manager can gather data from millions of CPE devices such as modems and set-top boxes in real time. This data is then aggregated and correlated with information from multiple other sources: network inventory, network topology, geographical information, real-time info from CMTS, DSLAM, DHCP servers, etc. DataMiner CPE Management collects and reports KPIs from across physical and logical networks views, so that cable and telco service providers can both provide better QoE to reduce churn, and reduce operational cost, by allowing operators to focus on important tasks first.