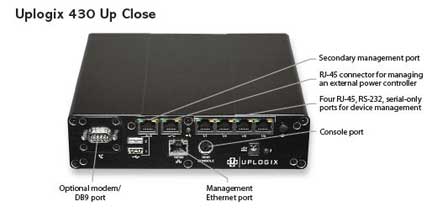 [SatNews] Cobham SATCOM's Sea Tel® Products and Uplogix announced today new levels of automated control and recovery for maritime Very Small Aperture Terminal (VSAT) and IP networking devices through a reseller agreement with Uplogix, a leading provider of remote network management.
Expanding on a technical relationship that has tightly integrated SeaTel antennas and controllers with Uplogix appliances, new levels of service quality are now possible for VSAT deployments.
Expanding coverage areas and efficiency of VSAT for use at sea has dramatically accelerated user and corporate expectations for broadband connectivity and reliability.
Uplogix automated remote management appliances help maritime customers increase uptime while reducing support costs by deploying with satellite and IP network devices and managing them independently of the network.
"The technical relationship that Cobham SATCOM has with Uplogix has been very beneficial to rapidly expand the integration between our products," said
John Desana
,
Vice President of Cobham SATCOM
. "As a value-added reseller of Uplogix in the maritime market, we will provide even more tightly integrated solutions for our customers with lower costs of ownership."
The appliances
monitor the infrastructure and can take basic recovery steps when a problem is detected, often saving the need for a support call
. In maritime
VSAT, this can be the difference between a functioning network, and downtime until a port call or an expensive and slow trip for a trained administrator to come out to a vessel
. With integrated out-of-band functionality, shore-based support personnel have persistent access to remote devices anywhere on the planet through an Uplogix appliance.
One example of the product integration is the ability Uplogix provides for operators to interact with the Sea Tel Digital Antenna Controller (DAC) via command line through the Uplogix appliance and the patented
Uplogix Remote Management Operating System (RMOS)
. Uplogix RMOS
collects and stores key variables from the antenna including heading, azimuth, elevation, antenna gain control, latitude, longitude and more for monitoring and alarming
. By storing and acting locally, Uplogix RMOS not only translates two byte words into readable format and but also decodes error status for easier use and faster resolution. In the event of a network outage, the appliance connects to the network operations center via an out-of-band connection over low earth orbit satellite (i.e. Iridium), to run the DACRemP program for management control and recovery of the DAC.
"Uplogix is a management automation platform that has been used in variety of network applications from corporate data centers to the most remote VSAT deployments at sea," said Lisa Frankovitch, vice-president for Corporate and Business Development at Uplogix. "Our work with Cobham's SeaTel products was driven by mutual customers who rely on broadband connectivity in harsh maritime environments around the world, and we look forward to making VSAT at sea as reliable as connecting on land."
Both Cobham SATCOM and Uplogix will be exhibiting at the Offshore Communications Conference in Houston, Texas on November 2-4
. See a demo of how the products integrate at the Uplogix booth, #126 or at Cobham's booth, #408.