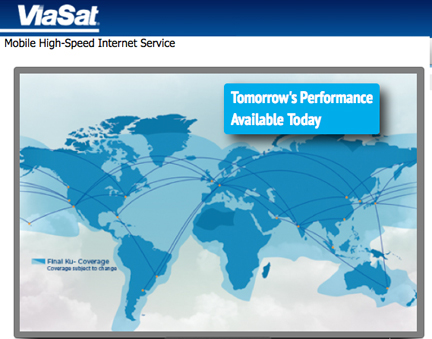 [SatNews] ViaSat Inc. (Nasdaq: VSAT) has demonstrated a high-performance Ka-band satellite communication system that...
...delivers beyond line-of-sight (BLOS) broadband for rotary wing aircraft. This advanced system provided sustained data rates of 4Mbps from the helicopter to a ground station and 8Mbps to the helicopter despite very high shock and vibration and the inherent repetitive signal blockage from rotating blades. While previous "through the blade" demonstrations have proved the underlying patented and patent-pending technology, this flight test at Patuxent River, Maryland used a Sikorsky H-3 helicopter.
Flight conditions encompassed rigorous maneuvers, including severe banking and operation through several rotor orientations while running data-intensive applications. During multiple tests, operators were able to simultaneously run five VoIP calls, three VTCs from air to ground, and streaming videos from the Internet to the aircraft. All applications ran without packet loss or video dropout. This new system builds on proven ViaSat mobile K-u and Ka- technologies using a modified waveform optimized for efficient through-the-blade broadband communications. The system can be used on manned and unmanned rotary wing platforms and provides communications regardless of the number of blades, blade size, number of rotors, or their orientation on the airframe.
A patent-pending shock and vibration isolation system enables the antenna to maintain lock with the satellite on the ground and in-flight. The antenna used in the flight test was the new ViaSat VR-12 Ka- antenna, which is a form and fit alternative to the VR-12 Ku-band antenna. The VR-12 Ku has achieved milestones of 500 deliveries and more than 500,000 mission hours.