From 2005 to 2015, Mike Suffredini was the Space Program Manager for NASA and he now leads the effort by his recently initiated firm, Axiom Space LLC where he is the President, to build a new space station.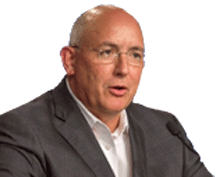 Why another space station? Simply because in 2024, the operation of the International Space Station (ISS) is only planned for support by NASA and their international consortium of companies until that year—then, what? In addition to Axiom, other companies planning to enter this spatial construction include Bigelow Aerospace and NanoRacks, both of whom have already completed projects for NASA and the ISS. Axiom is a subsidiary of Stinger Ghaffarian Technologies (SGT), whose co-founder and CEO, Kam Ghaffarian, is also the new firm's CEO. The move to initiate a new space station was discussed by Suffredini at the recent NewSpace 2016 Conference in Seattle, Washington.
Axiom's plan would be to send a base module to the ISS for attachment and then disattach that module at some point to become the foundation construct for a new, private sector station in LEO. As seed funding has already been acquired, and as conversations become more involved with NASA regarding this plan, should the agency's OK be given, investors would be required to raise additional monies for this complex project.