[SatNews] The RPA MQ-1 Predator made its debut in Canada among 30,000 Alberta locals in Lethbridge, July 23-25—this is the second time the UAV was showcased at an international airshow.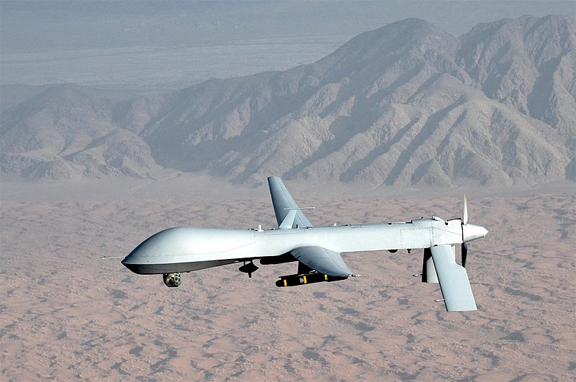 Fifteen Airmen from Creech Air Force Base, Nevada, participated in the 2015 Lethbridge International Airshow and educated the civilian population on the Predator's capabilities.

Among the high-flying maneuvers and exciting explosions of other demonstrations, the RPA held the attention of many intrigued spectators and at any given time and was surrounded by 25-30 curious parents and children. The surprisingly large Predator which has a 55 foot wing span yet fits in a 27' long, 4.5' wide, and 4' foot tall casket, was transported by the 22nd Airlift Squadron's C-5M Super Galaxy and aircrew.
The 20-year semi-annual airshow also included demonstrations from a Canadian Forces F-18 Hornet, B-17 Flying Fortress, biplanes, and the Royal Canadian Forces Snowbirds.
Executive Comments
"We brought the MQ-1 Predator and members from different career fields like maintenance, intelligence, sensor operators and pilots so we could educate the public in every facet of the mission," said 2nd Lt. Joel, 11th Reconnaissance Squadron chief of intelligence. "We wanted to show everyone that the plane is not 'unmanned' and it takes a lot of manpower in every stage of operating the aircraft."
"We were really well received by everyone," said Capt. Reed, 15th RS pilot. "We really wanted to dispel any misnomers and put faces to the plane and provide open communication to educate people on what we do, which is ultimately saving lives, and I think we did that. Overall, the airshow went great and was a great opportunity to work with our coalition partners and even Airmen from other U.S. bases to develop partnerships and set the foundation for more international events in the future."

"It's a really cool plane, I thought it was a lot smaller but it's actually quite big," said Wayne Burndred, a Calgary, Alberta, Canada local.

"I loved seeing the predator here and being able to see it in person and talk to the guys who actually operate it," said Doug Kakuschke, a Brooks, Canada local. "It was great having the American presence here again and I hope we can continue to have them participate in the years to come."