[Satnews] Gilat Satellite Networks Ltd. (NASDAQ, TASE: GILT) announces that Synertone, a Hong Kong satellite solutions provider, has selected Gilat's baseband equipment to enable fixed and mobility applications on its HTS IPSTAR-based network, offering coverage throughout China—Synertone placed orders totaling approximately $12 million for Gilat's solutions.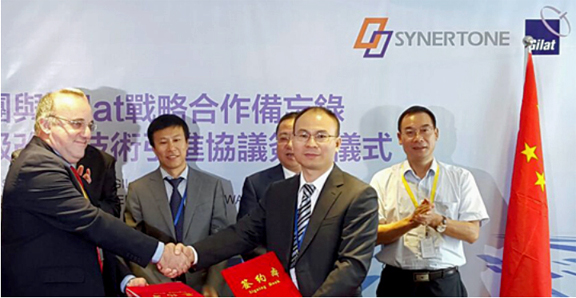 Powering Synertone's network will be Gilat's SkyEdge II-c platform with X-Architecture. The VSATs used are part of Gilat's Capricorn suite of ultra-high-speed IP routers. The network is estimated to go live within six to 12 months. Additionally, the MOU signed by Synertone and Gilat includes an option for advanced manufacturing and future R&D cooperation, should they agree to do so.
Executive Comments
"We are establishing a new level of satellite coverage in China. With Gilat's leading technology and expertise, we can now offer seamless broadband, enterprise, cellular backhaul and mobility services," said Synertone Chief Executive Officer Han Weining.
"This new HTS award by Synertone is yet another proof of our technology leadership and position in China. We are looking forward to a long-term partnership with Synertone, demonstrating our commitment to the Chinese market, supporting Synertone in bringing to market new mobility applications, rural broadband, and more," said Dov Baharav, Interim CEO and Chairman of the Board of Gilat.