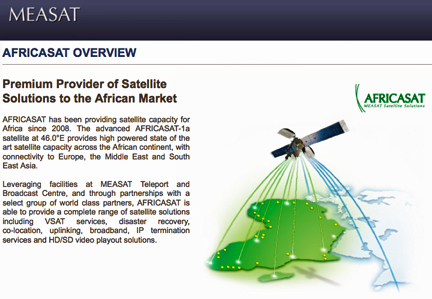 [SatNews] MEASAT Satellite Systems Sdn. Bhd. ("MEASAT") now has a three (3) year agreement with Sat Space Africa ("Sat Space Africa"), a leading provider of reliable and cost-effective Internet services in Africa, for capacity on AFRICASAT-1a.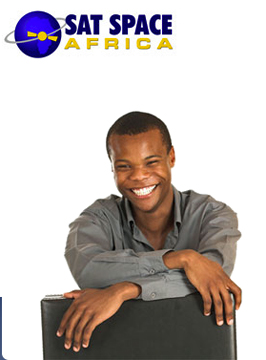 AFRICASAT-1a's capacities will be deployed to connect end-users in Africa directly to Sat Space's iDirect Evolution Hub in Rugby, United Kingdom.
"AFRICASAT-1a will enhance our C-band coverage offerings over Africa and provide high capacity connectivity solutions for ISPs, SMEs and the enterprise market," said Shimri Lotan, Managing Director, Sat Space Africa.
"MEASAT is pleased to support Sat Space Africa's efforts to promote high-speed, reliable internet connectivity across Africa," said Raj Malik, Senior Vice President – Sales & Marketing, MEASAT. "AFRICASAT-1a's high-powered C-Band beams will provide the required capacity, speed and stability for these services."
"We continue to see demand for reliable communication access from Africa and this agreement is a reflection of our commitment to the African continent," he added.
AFRICASAT-1a has been designed to meet expectations of leading service providers and broadcasters to reach out on a pan-African basis and enable broadband connectivity and access to world class content. AFRICASAT-1a will continue to further enhance the trust and goodwill established in this market via its predecessor AFRICASAT-1 amongst Cellular Operators, Enterprise VSAT Networks and ISPs.
More info regarding MEASAT's Africasat here: http://measat.com/africasat.html
Sat Space Africa's infosite link: http://www.sat-space.net/