During NAB 2019, at Booth #SU6702, Bridge Technologies will showcase the broad and deep range of solutions the company offers that will help the broadcast industry make a smooth transition to an all-IP infrastructure and will showcase the hardware and software tools to address the needs of studios, satellite, terrestrial and cable, OB vans, remote production facilities, as well as OTT/cloud operators.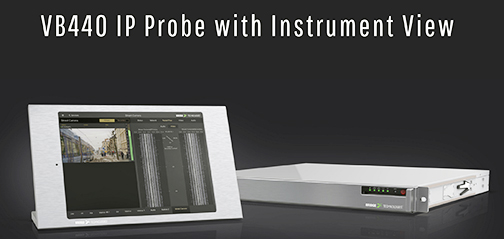 Being demonstrated on the Bridge Technologies stand are the VB440 IP Probe (also featured in the IP Showcase) and the Instrument View GUI. Both are essential tools for the increasingly distributed nature of broadcasting, providing insight easily and instantaneously from any location, giving complete flexibility in, for example, remote production scenarios.
The VB440 supports uncompressed media flows over IP with both ST2110 and ST2022-6 transports, providing network operators and digital media organisations with an analytics solution for numerous streams and multiple technologies in real-time and in parallel. With support for interface speeds including 10, 25, 40, 50 and, uniquely, up to 100 Gigabit on dual interfaces, even the largest of media networks can be accommodated with analysis of SD, HD i and p, HD HDR, 4K and 4K HDR and above. ST2022-7 redundancy is also monitored and analysed with ports connected to both primary and secondary networks.
Instrument View enables users to obtain the maximum possible value from the VB440. A unique tool in the industry, it provides an innovative way of viewing the behavior of uncompressed real time media. While other solutions are aimed at those who are technically highly proficient, Instrument View brings deep, intuitive understanding to non-experts.
Also on show on the Bridge Technologies stand is the VB330 IP Probe. The VB330 is uniquely able to support for Remote PHY/L2TP, making it suitable for unpacking and monitoring the multi-casts targeted towards Remote PHY CCAP nodes. For cable operators, this allows their network to have higher performance with lower OpEx, lower CapEx and an evolutionary path for FTTH. Developed for high-traffic monitoring in core broadband and media networks, the VB330 offers telcos, cable- and network operators and digital media organizations a monitoring solution scalable for any level of traffic.
The Bridge Technologies range of capabilities even encompasses portable solutions for network monitoring and analysis in remote locations or for temporary deployment. Being demonstrated on the company's stand is NOMAD. Weighing around two pounds and measuring just 9" x 7" x 1", it is a highly portable, rugged, self-contained tool for on-the-go media professionals who need to be able to troubleshoot hybrid IP multicast, OTT and RF networks. It is the ultimate all-in-one monitoring and analysis solution for the technician on the move.
In addition to the VB440, Instrument View, VB330 and NOMAD, Bridge Technologies will be showcasing its VB288 Content Extractor for objective and subjective video quality measurement; and the award-winning Remote Data Wall, which allows those responsible for network monitoring and management to quickly and easily create a visual representation of network activity.
Executive Comment
Simen K. Frostad, Chairman, Bridge Technologies, said that ever since the company was founded, the firm has been constant in the belief in the many benefits of IP technology for broadcasters, with the interoperability it brings — and everything that means in terms of lower cost, greater flexibility and improved scalability. The company's understanding of IP packet behaviors is unparalleled in the industry. Based on that understanding, Bridge Technologies deliver solutions that give deep insight into network performance, enabling problems to be identified and rectified before they impact services — throughout the entire chain.