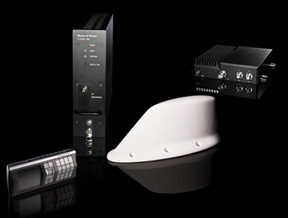 [SatNews] Thrane & Thrane is flying high with their latest news.
AVIATOR 200 SwiftBroadband solution has received a Supplemental Type Certificate (STC) for the system's installation aboard Cessna 500, 550, S550, 552, 560, and 560XL aircraft
. The STC follows the successful installation and testing of the AVIATOR 200, which was carried out by
Thrane & Thrane partner Banyan Air Service (FXE) and includes the system's use for WiFi
.
Thrane & Thrane's AVIATOR 200 is a compact, lightweight system that offers reliable, affordable connectivity to provide users with a range of services including data, video and voice. With built-in WiFi capability, the AVIATOR 200 makes it easy for aircraft operators to offer wireless connectivity aboard, to support the use of WiFi enabled devices such as laptops, tablets and smart phones.
Thrane & Thrane is the first satellite communications equipment manufacturer to receive a STC for a SwiftBroadband 200 system, placing the company firmly at the forefront of the industry.  
"Thrane & Thrane's AVIATOR 200 features a compact and lightweight design, which minimizes the modifications required to the aircraft,
enabling an easier and more cost effective installation
," comments
Brian Wilson
,
Director of Avionics, Banyan Air Service (FXE)
. "We are delighted to report that the
STC also includes WiFi, enabling crew and passengers to make use of iPads, iPhones, Blackberrys and other WiFi enabled devices, which are fast becoming essential business tools for the office in the sky
. During testing, the AVIATOR 200 performed exceptionally well, proving to be a high quality and reliable solution for in-flight communications for smaller aircraft."
Thrane & Thrane's new AVIATOR 200 solution is the latest introduction to the company's cutting-edge SwiftBroadband product portfolio and
is the only system available for smaller aircraft wishing to use Inmarsat's new SwiftBroadband 200 service
. AVIATOR 200 simultaneously provides data speeds up to 200 Kbps and a single AMBE 2 channel for voice calls, providing a complete airborne communications solution previously unavailable to aircraft below a certain size. Data and voice services can be accessed via wired or wireless connections built into the AVIATOR 200, alleviating the need for external wired and wireless routers.
Andy Beers
, Director of Aeronautical Sales Americas, adds: "The receipt of this STC is a key milestone in the successful introduction of the AVIATOR 200 solution enabling the system's installation aboard all Citation 500-560 aircraft. By utilizing a low gain antenna, the AVIATOR 200 offers in-flight broadband communication to an entirely new segment of users, providing airborne connectivity for business, military and government applications, particularly where weight and space may be critical considerations."