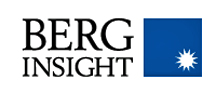 [Satnews] According to a new research report from the analyst firm Berg Insight, the number of active fleet management systems deployed in commercial vehicle fleets in Europe was 4.40 million in Q4-2014.

Growing at a compound annual growth rate (CAGR) of 15.1 percent, this number is expected to reach 8.90 million by 2019. A group of international aftermarket solution providers have emerged as the leaders on the European fleet management market. TomTom Telematics was the fastest growing vendor also in 2014 and has climbed to the number one spot in Europe ahead of Masternaut. TomTom has today about 450,000 vehicles under management in Europe and Masternaut is estimated to have an active installed base of 350,000 units, mainly in France and the UK.
Microlise, Digicore and Trimble have also joined the exclusive group of fleet management providers in Europe, having more than 100,000 active devices in the field. Transics is number one in the heavy trucks segment, with an estimated 85,000 active units installed. Also, the HCV manufacturers are growing their subscriber bases considerably in Europe, thanks to standard line fitment of fleet management solutions. Dynafleet by Volvo, FleetBoard by Daimler and Scania Fleet Management are the most successful with active subscriber bases of 70,000 units, 72,000 units and 88,000 units, respectively, as of Q4-2014. The consolidation trend on this market continued in 2015.

"Nine major mergers and acquisitions have taken place in the past year among the vendors of fleet management systems in Europe," said Johan Fagerberg, Senior Analyst, Berg Insight. TomTom acquired Fleetlogic in the Netherlands in December 2014 adding another 27,000 subscribers to its installed base. Fleetmatics acquired Ornicar in February 2015, a local FM solution provider in France adding around 15,000 vehicle subscriptions.
In March 2015, a decision was made to merge the two Danaher Corporation owned companies Navman Wireless and Teletrac. Later in April, Orange Business Services acquired OCEAN that now operates as a subsidiary with the OCEAN brand name. Novatel Wireless announced a bid to acquire Digicore in June in a deal worth US$ 87 million. In the same month, Viasat announced to have acquired a controlling interest in Cefin Systems. Goldman Sachs Merchant Banking Division and GRO Capital announced the acquisition of Trackunit from the founders of the company in July. Thermo King acquired Celtrak in October. The latest transaction was done in November when Fleetmatics acquired Visirun in Italy adding 28,000 subscriptions and 3,000 clients. Mr. Fagerberg anticipates that the market consolidation of the still overcrowded industry will continue in 2016.

Download the report brochure at this direct link: Fleet Management in Europe