Missions that range in mass from 10 to 75 kilograms, and with pricing starting at $500,000, are now major inclusions for Surrey Satellite Technology's (Surrey) expansion of their LEO satellite platform capabilities.

This platform amplification follows the recent announcement by Surrey of the firm's contract award for the VESTA nanosatellite mission. With scalable architecture and a modular avionics solution, these entry-level platform configurations offer power, mass, and payload capabilities that exceed those of other offerings in this smallsat class. Surrey specifically developed the expanded product offering to cater to customers who require more flexibility and performance than can be readily provided by conventional smallsat solutions.

With these additions, Surrey's LEO product capability now spans missions from 3 to 1,000 kilograms.

According to Dr. John Paffett, CEO of Surrey Satellite Technology US LLC, Surrey has witnessed a huge increase in the number of prospective customers attracted by the price point of cubesat platforms, but who may require larger, more capable solutions. This expansion of the company's LEO product capability provides Surrey with a high-quality, cost-effective solution to address their needs. He added that while these platform configurations come in a small package, they offer high-end capabilities, performance, and greater flexibility in payload accommodation. Additionally, he believes, there are also real opportunities to employ these new configurations for the implementation of future constellations, which would directly address the mission needs of new commercial space markets.
---
---
..In The Pursuit Of SmallSat Expertise…
SmallSat Symposium—Silicon Valley 2017
Workshop: Monday, February 6th, 2017
Symposium: Tuesday, February 7th — Wednesday, February 8th
Venue: Computer History Museum, Mountain View, California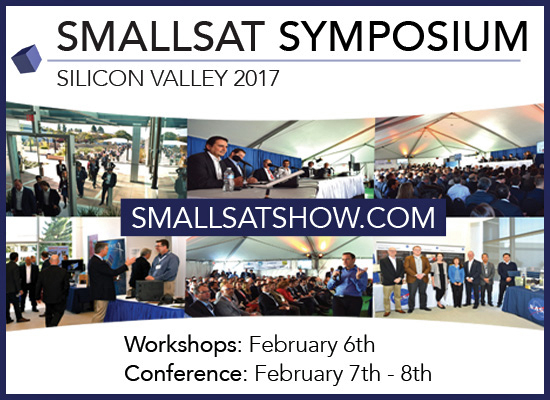 As with any industry trade event, one of the major draws as far as the time commitment necessary for attendance most assuredly revolves around the expertise that will be offered to those who participate... is the ROI for event participation and the hoped-for knowledge acquisition worth a company's or an individual's engagement at the venue?
For the SmallSat Symposium, just reading through the list of subject-matter experts who will be presenting at this event should offset any doubts as to the value of "being there." SmallSat Symposium—Silicon Valley in 2017 will offer a superior blending of expertise and unparalleled networking opportunities with the industry's smallsat, SATCOM and MILSATCOM actors.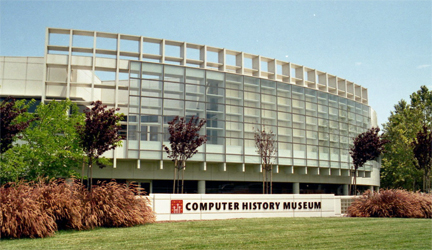 This extraordinary event will be held at the Computer History Museum in Mountain View, California, which happens to be a perfect location for the technology-rich smallsat environs.
Listed below are the accepted speakers to date, in alphabetical order, for the SmallSat Symposium.
The Speakers…
Chad Anderson, Managing Director,
Space Angels Network
Eric Anderson, President, And One Technologies
Jason Andrews, CEO, Spaceflight Industries
David A. Anhalt, Vice President and General Manager,
Iridium PRIME
Jenny Barna, Launch Manager, Spire Global, Inc
Chris Baugh, President NSR - Northern Sky Research
Chris Boshuizen, Principle, Data Collective VC
Peter Beck, CEO & CTO, Rocket Lab
Dr, Sami BenAmor, Director of Marketing, Thales Alenia Space
John Booher, Partner, Hogan Lovells
Phil Carrai, President, Kratos Technology and Training Division
Dr. Sean Casey, Managing Director, Silicon Valley Space Center
Carissa Christensen, Managing Partner, The Tauri Group
Craig Clark, Founder, Clyde Space Ltd.
Robert R. Cleave, Director, Vice President, Commercial Space,
Lockheed Martin
Mike Collett, Founder and Managing Partner, Promus Ventures
James Crawford, Founder and CEO, Orbital Insight
Randy Culver, CEO, AMERGINT Technologies
Erik Daehler, Director, Product Innovation Network & Space Systems,
Boeing Network and Space Systems
Stuart Daughtridge, Senior VP Advanced Technology, Kratos
Tahara Dawkins, Director, Commercial Remote Sensing Regulatory Affairs Office,
National Oceanic and Atmospheric Administration
Chris DeMay, Founder and COO, HawkEye 360
Dr. Lars Dyrud, CEO, OmniEarth
Dr. Shahin Farshchi, Partner, Lux Capital
Dr. Jenny Gautier, Director of Commercial Programs,
The Aerospace Corporation
Allen Griser, Business Manager, General Dynamics Mission Systems,
SATCOM Technologies
Dr. Steve Goldberg, CEO & Co-Founder, Venrock
David Hartshorn, Secretary General GVF - Global VSAT Forum
Yvon Henri, Chief, Space Services Department, International Telecommunication Union (ITU)
Jonathan Hofeller, Vice President of Commercial Sales, SpaceX
Susan J. Irwin, President, Irwin Communications, Inc.
John P. Janka, Partner, Latham & Watkins LLP
Adam Keith, Managing Director, Euroconsult Canada
Andrew M Kwas, Engineering and Technology Strategist, Northrop Grumman Corp.
Wallis Laughrey, Vice President, Space Systems, Raytheon
Debra Facktor Lepore, VP and GM of Strategic Operations, Ball Aerospace & Technologies Corp
Chris Lewicki, President and CEO, Planetary Resources, Inc.
Daniel Lim, President & CEO, Xtenti, LLC
Tony Lin, Counsel, Washington, DC, Hogan Lovells
Christopher Loghry, Business Development Manager, Moog
Dr. Clare Martin, Vice President of Programs,
Surrey Satellite Technology US
Attila Matas, Head of the Space Publications and Registration Division,
International Telecommunication Union (ITU)
Clayton Mowry, President, Arianespace
Sunil Nagaraj, Vice President of Marketing and Communications,
Bessemer Venture Partners
Ryo Nakamura, Director, Business Development Department,
Mitsubishi Heavy Industries
Carlos Niederstrasser, Business Development & Special Initiatives,
Orbital ATK
Miles O'Brien, Science Correspondent, PBS NewsHour
Steve Oldham, Vice President, Strategic Business Development,
Space Systems Loral (SSL)
Dara A. Panahy, Partner, Milbank, Tweed, Hadley & McCloy
Andrew Petro, Program Executive for Solar Electric Propulsion and
Small Spacecraft Technology, NASA
Tom Pirrone, Executive Vice President and General Manager for the Americas,
Swedish Space Corporation
Will Pomerantz, Vice President for Special Projects, Virgin Galactic
Christopher Richins, Co-Founder & CEO, RBC Signals
Jerzy "George" Romaniuk, Product Line Manager, Space Sector,
Aitech Defense Systems, Inc.
Dr. Alex Saltman, Senior Vice President, GeoOptics Inc.
Randy S. Segal, Partner, Co-Lead Satellite Practice, Hogan Lovells
Dr. George F. Sowers, Director, Vice President, Advanced Programs & Chief Scientist,
United Launch Alliance (ULA)
John Stack, Managing Director, Aerospace Leader,
The McLean Group Advisory Team
Leon Stepan, Lead Mission Operations Analyst, Planet Labs
David Strobel, CEO and Program Manager, (PM) Space Micro
Chris Stott, Chairman & CEO (PM), ManSat
Tom Stroup, President, SIA - Satellite Industry Association
Professor Sir Martin Sweeting, Founder and Executive Chairman,
Surrey Satellite Technology Ltd.
Stig-Are Thrana, U.S. Sales Director and Head of Kongsberg Silicon Valley Office,
Kongsberg Satellite Services
Dr. Joe Thurgood, Vice President Corporate Development and Marketing,
Hera Systems
Dr. Marco Villa, President & COO, Tyvak Nano-Satellite Systems
Tony Wilkey, Senior Vice President, AvL Technologies
Bruce Yost, Project Manager, NASA Ames Research Center
Louis Zacharilla, Director of Development,
Society of Satellite Professionals International (SSPI)
The first 100 registrations qualify for a $200 discount off the standard event admission —take advantage of this savings and register to attend the SmallSat Symposium today! Register Now...
For information regarding the various workshops, please select this direct link.