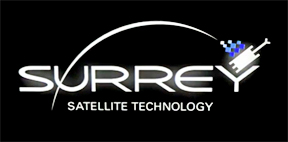 [Satnews] A British consortium led by Surrey Satellite Technology Ltd. (SSTL) has been awarded a grant from Innovate UK, the UK's innovation agency, to co-fund the development of a novel High Test Peroxide (HTP) propulsion system.
The new HTP propulsion system is being designed as an environmentally friendly and cost effective "green" replacement for hydrazine propellant systems, which are currently commonly used in small satellites. Hydrazine is on the REACH* sunset list of chemicals and there is a drive from the space industry to develop alternative high performance, low cost, propulsion systems.
SSTL has identified HTP as an environmentally friendly monopropellant with the potential for providing the high performance required for future small satellite missions, and has teamed with partners on a project to bring the new HTP propulsion system design to flight-ready status.
SSTL's propulsion engineers have designed a prototype HTP propulsion system, and will work together with the consortium partners to resolve the remaining design and materials challenges to achieve a flight-ready concept by the end of 2016. The project will require a comprehensive validation of material compatibility that will be undertaken by European Astrotech (EAL) to demonstrate for future customers the long term suitability of HTP with all system components.
A new valve will be developed by SSTL, based on a novel patent from The Open University, and a high-strength Aluminum propellant tank will be developed by TISICS Ltd using fiber reinforced aluminum composite (Al-MMC). Finally, the entire system will be built as a ground demonstration unit by SSTL and tested with EAL.
* REACH is the European Regulation on Registration, Evaluation, Authorization and Restriction of Chemicals. It entered into force in 2007, replacing the former legislative framework for chemicals in the EU.
---
SmallSat Expertise To Inundate The February SmallSat Symposium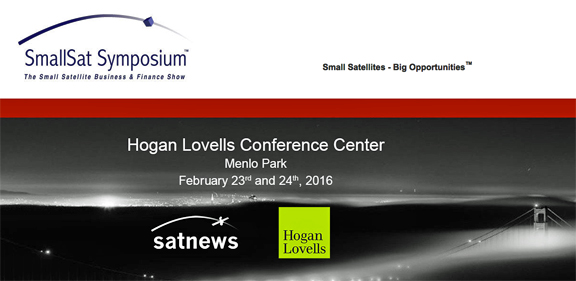 For a thorough immersion in the smallsat market segment, attend the upcoming, two-day and extremely important SmallSat Symposium. This highly informative symposium will be conducted on Tuesday, February 23, and Wednesday, February 24, 2016. The event will occur at the Hogan Lovells Conference Center in Silicon Valley, California, and is organized and sponsored by Satnews Publishers.
In example, just one of the offerings on Day Two is entitled Structuring Financial Alternatives
Growth can be obtained either organically or through targeted acquisitions—which best suits the small satellite company. Which funding vehicle is most likely to invest in small satellite companies to supply risk and/or working capital? Which financial innovation will accelerate growth? Choosing a financing option from various alternatives such as SBA loans, banks, online lenders, crowd funding, venture capitalists, angel investors, exchange-traded funds, hedge funds to private lending institutions etc. Core investor interests —how to structure your offering and present your leadership and partner options.
Moderator: Chris Stott, Chairman & CEO, ManSat LLC
Speaker: Amir Blachman, Managing Director, Space Angels Network
Speaker: Armand Musey, Financial Advisor and Turnaround Consultant, Summit Ridge Group, LLC
Speaker: Dr. Marco Villa, President and COO, Tyvak Nano-Satellite Systems
For additional details and to register, please visit http://www.smallsatshow.com/?page_id=18