[SatNews] The Society of Motion Picture and Television Engineers (SMPTE) has announced the publication of the BXF (Broadcast eXchange Format) 2.0 suite...
...which streamlines interoperability and information exchanges between business and media management systems vital to broadcast and new-media operations. With its clear and specific mapping instructions for sharing and exchanging business data and on-air content across digital media workflows, the SMPTE BXF suite provides standardized, single timeline-based support for ensuring accuracy amidst dynamically changing content—right up to the time viewers see it.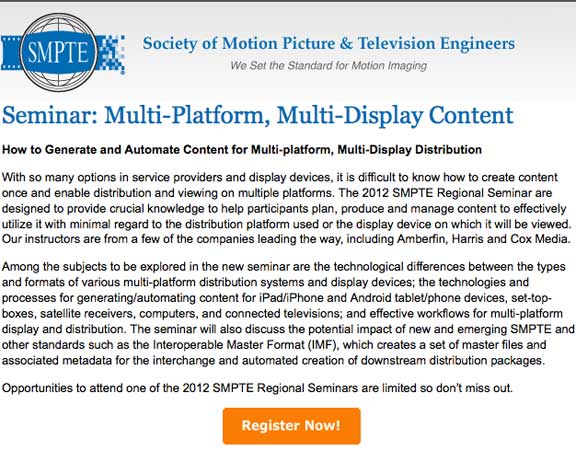 "With an ever-expanding array of delivery platforms, as well as targeted advertising, maximum efficiency for advertising workflows has gone from a nice idea to a must-have. The good news is that we now have the tools to make it work," said Chris Lennon, chairman of the SMPTE BXF Working Group and CTO Group Lead for Harris Broadcast Communications.
The updated BXF 2.0 XML schema and documents will be available for purchase and subscribers from the store section of the SMPTE Digital Library. Already enjoying widespread adoption, the BXF suite of documents is a messaging protocol used for information exchange. The BXF suite provides a standardized approach for the exchange of schedule, as-run logs, content metadata, and content transfer instructions between systems across broadcast and new-media operations, including servers, editors, traffic and billing, sales and scheduling, automation, and digital asset management equipment.
More than 150 individuals from over 80 companies and industry organizations around the world, including the Advanced Media Workflow Association (AMWA), helped to develop the suite, ensuring support of increasingly file-based workflows as well as regional-specific requirements.
The BXF 2.0 suite includes several backward-compatible enhancements to the existing BXF schema set to ensure scalability and future proofing for broadcast and new-media operations. These include additional support for sponsored secondary events, reuse of house numbers, enhanced multi language support, and the ability to communicate currently airing, previous, and upcoming events. The SMPTE BXF Working Group (34CS-10) already is focused on BXF 3.0, including efforts to expand support for a broader range of media facilities with enhancements such as digital rights management. Learn about the latest BXF Suite Updates at SMPTE 2012 Annual Technology Conference & Exhibition, scheduled for October 23-25, 2012 at the Loews Hollywood Hotel (formerly the Renaissance Hollywood Hotel & Spa) in Hollywood, California.