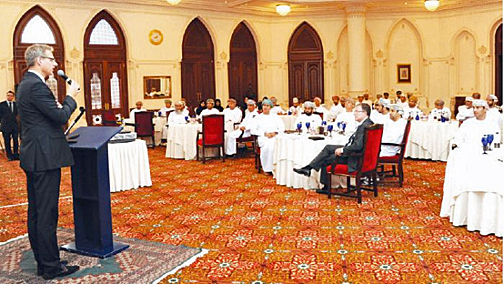 With the aim of raising awareness on the latest trends in satellite technology, the Oman Ministry of Transport and Communications hosted a workshop at the Al Bustan Palace Hotel titled "Sultanate Satellite Options."
The event was conducted under the auspices of HE Said Bin Hamdoon Al Harthy, Undersecretary at the Ministry of Transport and Communications for Ports and Maritime Affairs. The two-day seminar has been organised in cooperation with Thales Alenia Space company.
The event studied ways to transfer and localize satellite technologies, build national capacity and take advantage of Sultanate satellite technology. Additionally, organizational matters for the work, funding and structure, safety system, the operation and management system of the load, in addition to Omani national capacity-building and training mechanism on the satellite system, were discussed. There were also talks on the transfer of competencies in the field of space, obtaining orbital rights to orbit slots and frequencies, in addition to reviewing the model procurement plans and the overall schedule to implement them.
According to Al Harthy, this was the second seminar of its kind related to satellite and organized by the Ministry of Transport and Communications, in collaboration with private companies and with the participation of a number of specialists from related parties in the government and private sectors, educational institutions in the Sultanate and representatives of international bodies. The seminar was designed to review the latest tools and technologies used in the field of satellites and to brainstorm and exchange views and address inquiries about new technologies.