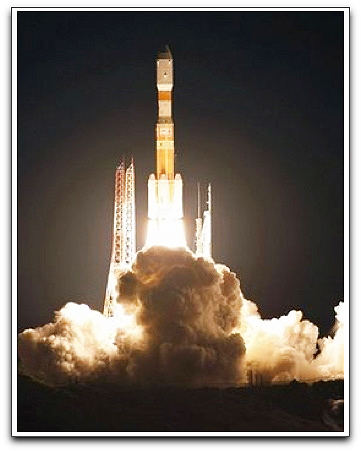 Early Friday morning, Japan's H-2B rocket successfully launched an H-2 Transfer Vehicle, or HTV cargo transporter, which is Japan's first unmanned cargo vehicle.
The
Japan Aerospace Exploration Agency
(
JAXA
) designed it to transport supplies to the International Space Station orbiting Earth. The launch rocket with the HTV on board, the first of its kind, lifted off at 2:01 AM local time from the agency's
Space Center
on
Tanegashima Island
, off Kyushu, southwestern Japan. Jettisoning its booster rockets and shields, the H-2B rocket successfully separated the HTV at around 2:17 AM, or about 15 minutes after the launch, at an altitude of 287 kilometers. The HTV will transport about 4.5 tons of supplies to the space station, including food and daily necessities. The vehicle is scheduled to dock with the space station in about a week. The launch of the HTV cargo transporter is drawing attention in Japan and abroad. It is expected to play a major role in ferrying materials to the ISS after the scheduled retirement of the U.S. space shuttle fleet next year.