During the current World Satellite Business Week in Paris, Virgin Galactic and Sky and Space Global (ASX:SAS) had a busy schedule that included the final discussions and the signing of a binding launch services agreement.
The agreement covers four dedicated missions on Virgin Galactic's LauncherOne system to place Sky and Space Global's initial constellation in orbit. Virgin Galactic also announced the capability to fly LauncherOne from low latitudes, allowing customers to maximize the amount of payload delivered to low inclination orbit, including equatorial orbits. Typically, ground-based launch vehicles must expend significant amounts of performance to deliver spacecraft to inclinations well away from the latitude of the launch site. By contrast, as an air-launched system, LauncherOne can optimize each mission to customer requirements by operating from a variety of launch locations—including launching the rocket from above or near the equator in order to most efficiently and cost-effectively insert satellites into low inclination orbits.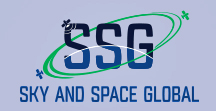 Sky and Space Global's flights are the first announced LauncherOne missions planned to fly from low latitudes, allowing Sky and Space Global to maximize the amount of payload delivered to a low inclination orbit. Previously disclosed LauncherOne contracts, including flights for OneWeb and NASA, are designed to fly to higher inclination orbits. Each of the four launches purchased by Sky and Space Global will be used to carry multiple satellites, which will rapidly establish the company's innovative communication system infrastructure and service. The flights are expected to begin in 2018.
The fully-funded LauncherOne program is currently in advanced phase of hardware testing for every subsystem and major component of the vehicle. With hundreds of millions of dollars of launches already under contract, Virgin Galactic has established a state-of-the-art 150,000 square foot manufacturing shop in Long Beach, California, with a team of more than 200 experienced aerospace professionals currently preparing the system for its first test flights.
According to Virgin Galactic CEO George T. Whitesides, having a 747 as the firm's flying launch site means that LauncherOne can tailor missions to suit each customer. There's an enormous level of commercial and governmental interest in launches that can reach equatorial orbits without having to pay the large performance penalty associated with transfer orbits.
http://www.skyandspace.global/