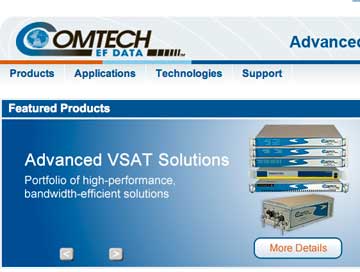 [SatNews] They are the dominant manufacturer in the Single Channel per Carrier (SCPC) area of the satellite industry.
Comtech EF Data Corporation announced today that in the recently published 12th Edition of the VSAT Report by COMSYS, it was named the dominant manufacturer in the Single Channel per Carrier (SCPC) area of the satellite industry.
The report identifies that the provision of SCPC links to support mobile cellular backhaul remains an important business. Mobile cellular backhaul continues to account for a majority of the new growth in the SCPC market, primarily in Africa and Asia with Latin America expected to expand rapidly in the next two years. The report further explains that SCPC has a reputation for bullet-proof reliability, with strong sales into the military, government and maritime markets. 
"The most common applications for SCPC modems are where maximum efficiency is needed in high-priced satellite capacity environments and where dedicated clear channel capacity is required," commented Simon Bull, senior consultant for COMSYS. "Comtech EF Data has worked hard to refine bandwidth efficiency.  We believe that their latest Advanced VSAT Solutions product line represents a significant step forward for the company in addressing the shift from dedicated circuits to shared systems."
The VSAT Report is known as the definitive study on the satellite industry, which enables telecommunication and IT managers, existing and prospective system operators, manufacturers and integrators to stay competitive and increase profitability. COMSYS bases the VSAT Report on primary research involving site visits and interviews.
"We are honored to be recognized as the leader in bandwidth efficiency and SCPC modems," said Daniel Enns, senior vice president strategic marketing and business development for Comtech EF Data. "We will continue to deliver solutions that enable users to reduce OPEX/CAPEX and to increase satellite link throughput."
The Advanced VSAT Solutions portfolio provides high-performance satellite-based communication solutions for a diverse range of applications, including mobile backhaul with RAN optimization, IP trunking and backhaul, maritime and offshore networks, corporate and enterprise networks, emergency and disaster recovery. Incorporating advanced technologies developed by Comtech EF Data, AHA Products Group, Memotec and Stampede, the solutions provide unmatched performance, industry-leading bandwidth efficiencies and network optimization – while minimizing total cost of ownership.