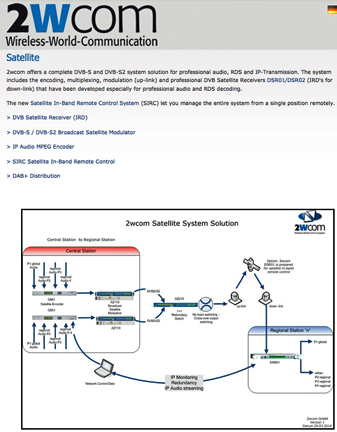 [SatNews] 2wcom will be presenting three new products during CommunicAsia2014, which will be added to the company's range for IP radio, audio contribution via satellite and IP, and DAB/DAB+—these extremely versatile, multi-faceted solutions are being deployed by major broadcasters to build the next generation of robust, high-quality cost-effective radio infrastructure.
The new products include...

FlexDSR02+/FlexDSR04+ – IRD for audio contribution via satellite and IP 2wcom's FlexDSR02+ and FlexDSR04+ offer an unprecedented combination of capabilities in a compact 1U IRD for professional audio contribution via satellite and IP. Far more versatile, powerful and effectively integrated than the previous generation of satellite receivers, the FlexDSR02+ and FlexDSR04+ feature versatile inputs for up to four different programs with analog or digital output, a full regional insert solution, SIRC for inband control via satellite, and automatic weight balancing of quality parameters and program source switching (satellite, IP-line, ASI, SD card) in case of failure. With support for the latest codecs, inbuilt monitoring of operational parameters, and superfast reliable hardware easily upgradeable with software options, the FlexDSR02+ and FlexDSR04+ is the most innovative IRD available.
FlexNsert/FlexXtract – DAB+ distribution via satellite The 2wcom FlexNsert DAB+ Distribution Inserter receives a DAB ETI data stream (according to EN 300799), converts the stream into a standard MPEG2-TS-signal and outputs it via ASI or Ethernet transport stream interfaces. The FlexXtract+ DAB+ Distribution Extractor demodulates a data stream (2048 kbps) from a DVB-S or DVB-S2 signal and converts the data into a standard ETI-signal according to EN 300799 or EDI-signal according to TS 102 693 to feed DAB or DAB+ transmitters. Both units offer optional advanced bandwidth saving technology for up to 45% greater efficiency, together with a multi-program regionalization management option.

**NEW: FMC01 – FM/MPX Codec over E1/IP Codec—The new FMC01 is a ground-breaking compact codec for high-quality FM MPX contribution and distribution via IP or E1 (G.703). In an industry first, the FMC01 can combine Encoder and Decoder functions in the same unit, offering significant infrastructure savings. With 100 percent lossless audio encoding/decoding and optimized bandwidth technology that delivers maximum FM quality, the FMC01 is a point-to-multipoint distribution solution that redefines the cost/performance equation for radio network.
For more information, please visit http://www.2wcom.com/