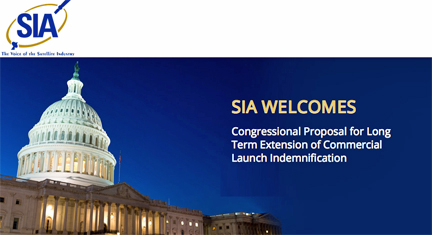 [SatNews] The Satellite Industry Association (SIA) has welcomed consideration by Congress of a bill that would extend the existing commercial space launch indemnification regime through 2023.
Maintaining this long-standing provision of law would help ensure the global competitiveness of U.S. companies over a significant time horizon. The indemnification provision was included as a part of the Spurring Private Aerospace Competitiveness and Entrepreneurship (SPACE) Act of 2015, which is currently under consideration by the House Committee on Science, Space, and Technology.

"Long-term regulatory certainty for U.S. launch service providers is of significant value to the global commercial satellite industry," said Tom Stroup, President of SIA. "We welcome action that would maintain the regime well beyond its current sunset at the end of 2016. It would be an important step in maintaining U.S. innovation and leadership in satellite launch and one that promotes overall access to space."

SIA has supported for several years extending commercial space launch indemnification, but takes no position on the other sections of the SPACE Act, which SIA has not analyzed in detail.