Satcube AB
will be showing their new Ku-band lightweight terminal with an integrated UHP-200 modem at Hall 3, C16, at RIA in Amsterdam during IBC2017 and demonstrating the unit outside in the Broadcast Solutions booth.

The Satcube Ku band terminal:
Sets up in less than a minute
Conforms to airline carry on requirements; it weighs less than 8kilos in its case
Gives three hours of battery time and more with hot swappable batteries
Has an integrated flat panel antenna
Conforms to ITU regulations
Connects through cable or WiFi
Is available through our network of major resellers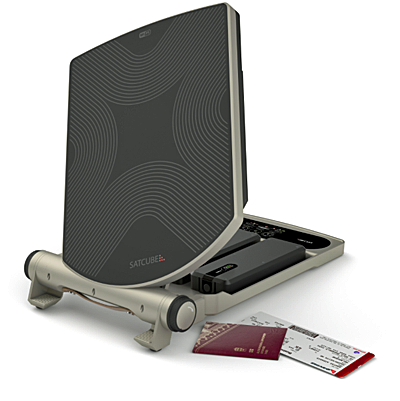 The integrated UHP-200 modem enables performance up to 20 Mbps duplex performance with Intelsat EPIC or, with SCPC activated, up to 45 Mbps duplex. On non-HTS systems, such as the Romantis network, the modem enables performance up to 4Mbps duplex, or with SCPC activated, up to 9Mbps duplex. Demonstrated will be live traffic over, among others, Romantis capacity on the AM7 satellite — the performance numbers above have been verified at live trials.

UHP Networks Inc, part of Romantis Group, is engaged in development, manufacturing and marketing of satellite networking equipment. The company's core products include UHP universal satellite routers and advanced Network Management System. UHP is the industry's first fully software defined, high-throughput VSAT router, which can be used in a network of any size and any topology either as remote or a building block of a VSAT hub. UHP-powered solutions are efficient and reliable, with industry-best total cost of ownership. These solutions have been deployed in over 180 networks by broadcasters, Tier 1 telecom service providers, and government agencies. The company's booth at IBC2017 is located at 1.A95.

Satcube AB is a privately-owned company based in Gothenburg, Sweden. After eight years of developing satellite terminals as a consulting company and decades of experience in satellite terminal development, production and deployment, Satcube is will now present their first satellite terminal under their own brand.

Vagan Shakhgildian, CEO UHP Networks, stated that the Satcube Ku lightweight terminal showcases the best-in-class performance of the company's UHP-200 modem, which consumes only 10W and can process up to 250,000 IP packets per second in a very small volume.
Adding his thoughts, Jakob Kallmér, the CEO of Satcube AB, added that with the UHP-200 modem, the company is able to deliver world class performance in a light weight, easy to use integrated lightweight terminal.