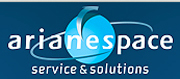 [Satnews] Arianespace announces the company has signed a contract with the Argentinean operator ARSAT (Empresa Argentina de Soluciones Satelitales Sociedad Anónima) to launch its next geostationary satellite, ARSAT-3, plus options on two more launches.
This strategic long-term agreement follows last year's successful launch of ARSAT-1 on October 16, 2014, and comes a few hours before the now-successful launch of ARSAT-2. The agreement will cover Argentina's satellite launch requirements until 2023.
With a liftoff mass of approximately 3,000 kg., ARSAT-3 will be the first satellite launched, delivered to geostationary transfer orbit in 2019. It will be injected by an Ariane 5 from the Guiana Space Center, Europe's Spaceport in French Guiana. The two options involve two geostationary satellites that are similar to ARSAT-3, and for which their launches are planned for the 2020-2023 timeframe. These new ARSAT satellites will complement the services already offered by ARSAT-1 and soon ARSAT-2. They will provide a wide range of telecommunications services, including data transmission, telephony and television broadcasting.
Executive Comments
Following the signature of this contract, ARSAT Chairman and CEO Matias Bianchi, said, "Today, we have once again chosen the world's most reliable launch service provider, Arianespace, to orbit our upcoming satellite, thereby strengthening Argentina's dual role as constructor and operator. Through these planned new satellite, ARSAT supports Argentina's policy for the development of the national satellite industry, as expressed in the bilateral space cooperation agreement signed this morning by the Argentine Minister of Planning, Mr Julio De Vido, and the French ambassador to Argentina, his highness Jean-Michel CASA."
Stéphane Israël, Chairman and CEO of Arianespace, said, "I would like to thank ARSAT for entrusting Arianespace with the launch of its future satellites. Today's contract, and the two associated options, bolster the strong partnership that we've had for more than five years. We also are very proud that this contact comes the same day as the signature of an agreement between France and Argentina for a broad space cooperation."