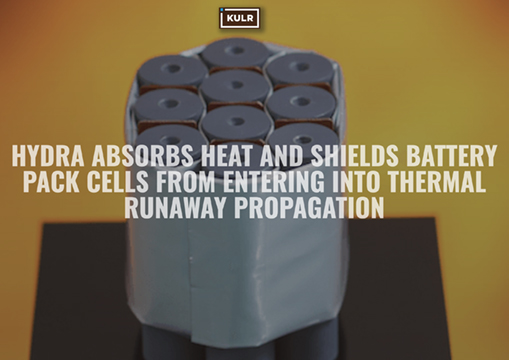 KULR Technology Group, Inc. (OTCQB: KULR) has introduced their Thermal Runaway Shield (TRS) storage solution to safely store laptop lithium-ion batteries on the International Space Station (ISS), in partnership with Leidos (NYSE: LDOS) for the National Aeronautics and Space Administration (NASA).
Leidos — in a $159 million, single-award cost-plus fixed-fee contract with NASA — is applying multiple technology innovations such as KULR's Thermal Runaway Shield (TRS) to improve capabilities for cargo planning, processes and packing that provide the ISS with cost-effective solutions in a dynamic and challenging operating environment.
In 2019, Leidos procured KULR's TRS for NASA to support testing of its TRS in storage bags to protect laptop computer battery packs on board the ISS. These bags, each containing two laptop battery packs, are typically stored adjacent to one another. If one of the batteries enters into a state of thermal runaway, the resulting temperatures will increase to the point where thermal runaway is initiated in any neighboring bag as well, overheating all nearby laptop batteries. Until now, additional empty bags had to be placed between occupied bags to reduce the amount of heat radiated.
Tests of the TRS within the fireproof bags began in 2019, and were found to absorb enough thermal energy in the tightly packed scenario to prevent thermal runaway in the populated adjacent bags. This was a significant difference from previous tests run without the KULR TRS, and met the fireproofing requirements.
Daniel Barineau, Senior Project Manager, at Leidos, noted that KULR has provided a key component to the efficiency of the thermal management solutions the firm is developing for NASA. KULR's thermal management technology should have applicability beyond this one implementation, both on the ISS and future destinations. Thermal management solutions are crucial to the safety and security of all missions, and the company is pleased to see another effective use of KULR's technology. The TRS is being flight certified now and the bags will fly on a resupply mission to the ISS on NG-12 in October of 2019.
Michael Mo, CEO of KULR Technology Group, added that alongside what is another successful space application with the firm's world-class strategic partners, the company is rapidly transitioning TRS and additional proprietary technologies into mass market commercialization. In addition to working with global automakers to use the company's disruptive TRS technology for nexgen electric vehicles, the firm is progressing toward offering the transportation and logistics industry with the safest, cost-effective way to store and ship lithium-ion batteries and products containing them.