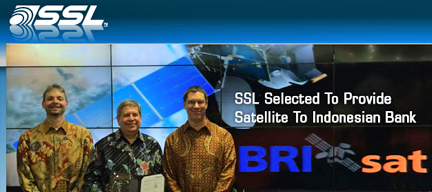 [SatNews] Space Systems/Loral (SSL) has been selected to provide a satellite to PT. Bank Rakyat Indonesia (Persero) Tbk (BRI), the oldest and most profitable bank in Indonesia.
The SSL-built satellite will make BRI the first bank in the world to launch a communications satellite and will provide a dedicated platform for banking connection services for the people of Indonesia.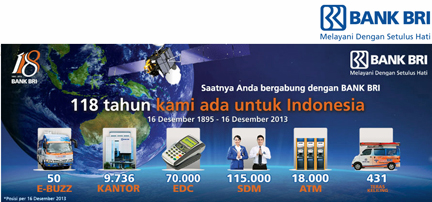 To be known as BRIsat, the satellite is a C- and Ku-band satellite that will be positioned at 150.5 degrees East longitude, with coverage of South East Asia and Indonesia. The satellite will help BRI provide secure banking communications for its more than 9,800 branches, over 100,000 electronic channel outlets and morethan 50 million customers across Indonesia.
BRIsat is based on the SSL 1300 satellite platform, which has the flexibility to support a broad range of applications and technology advances. Scheduled for launch in 2016, it will provide service for 15 years or longer. In addition to the BRIsat satellite, SSL will provide a complete ground system, which includes two satellite control facilities, as well as training, and launch support services.
For further details, please visit the SSL infosite at http://www.sslmda.com/
BRI's infosite may be visited at http://www.bri.co.id/