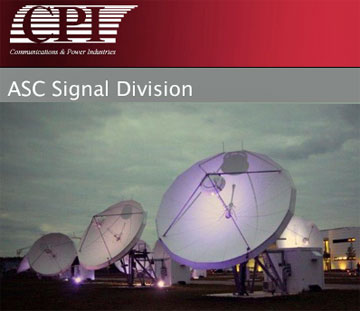 The Telekom Austria Group operates more than 50 Earth stations and is among the largest teleports in Europe and is part of Telekom Austria Group's international, terrestrial backbone, providing communication services to more than 23 million customers in Central and Eastern Europe — and three new Earth stations are now on their way to them from the ASC Signal Division of Communications & Power Industries, LLC (CPI).

Under this agreement, CPI ASC Signal Division will provide a 9.4 meter antenna with a custom six-port Ku/K-band feed; a 4.9 meter dish, also with a custom six-port Ku/K-band feed; and a 3.7 meter Ku-band antenna system. Each antenna is controlled by CPI ASC Signal Division's Next Generation Controller (NGC) and will include five NGC training modules, this according to Keith Buckley, president of the CPI ASC Signal Division. This is the second order that Telekom Austria Group has placed with ASC Signal within the past five years.
The Aflenz Teleport serves as EUTELSAT's Earth Station Verification & Assistance (ESVA) test and satellite In-Orbit Testing (IOT) reference site and is also considered an architectural masterpiece, having been designed by architect Gustav Peichl in 1980. The facility's largest antenna weighs 275 tons with a diameter of 32 meters (the equivalent of eight automobiles in length). The teleport also services enterprise customers and international and governmental organizations.