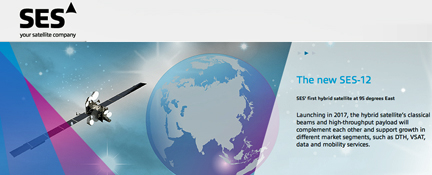 [SatNews] SES (NYSE Euronext Paris and Luxembourg Stock Exchange: SESG) will be delivering DTH broadcast television across French-speaking countries in Sub-Saharan Africa for the Lomé-based consortium of West African broadcasters led by Africable and Media Plus.
The multi-year contract for two transponders will allow the new platform to deliver DTH television from its Bamako Teleport to member countries of the West African Economic and Monetary Union (also known by its French acronym UEMOA). The roll-out start on October 1, 201,4 across Mali, Burkina Faso, Ivory Coast and Niger. SES will provide the satellite capacity on its SES-4 satellite located at 22 degrees West, the company's prime orbital slot for Francophone sub-Saharan Africa, providing 100 percent audience reach from urban to non-urban areas.
The service will offer a bouquet of 80 channels, free-to-air (FTA) and encrypted, and will allow member countries to meet the global digital migration deadline of June 2015. Audiences will be able to connect to the existing national Digital Terrestrial Television (DTT) networks and to receive content via satellite using a Dual Tuner receiver (MPEG4 and DVBS2/T2) included in the offer.
Ibrahima Guimba-Saidou, Senior Vice President, Africa for SES, said, "With more than 50 satellites globally, SES has nine satellites which cover Africa. As such, we are well positioned to increase the choice of broadcast channels for local communities."
Ismaila Sidibe, CEO of Africable, said, "Right to TV is our slogan. With over 20 years of experience as a leading wireless cable (MMDS) operator and content provider across Africa, we understand the importance of supporting digital migration on the continent to achieve 100 percent audience reach. It is our goal to deliver quality television to the wider population at an affordable cost, and we believe DTH technology can help us achieve this."
Additionally, SES (NYSE Euronext Paris and Luxembourg Stock Exchange: SESG) has announced that its subsidiary SES DTH do Brasil has signed with Anatel (the Brazilian National Telecommunications Agency) the Satellite Exploitation rights terms for two Brazilian orbital positions (48 degrees West and 64 degrees West).
The Anatel auction took place in May of this year and the execution plan documents were under review and were the driver for the time being for the auction and the signature. SES will have four years to make definitive capacity available at 48 degrees West and six years to make definitive capacity available at 64 degrees. At the 48 degrees West orbital position, SES will focus on multiple uses (FSS model - Fixed Satellite Services) and will operate in C-, Ku- and Ka-bands. The 64 degrees West orbital position will be exclusive for DTH use (BSS - Broadcasting Satellite Services). The exploitation rights are valid for 15 years, renewable once during the same period. SES invested a total of R$ 59.8 million (approximately EUR 19.65 million) for these positions.
The official ceremony of signature occurred in Brasilia (DF), at the headquarters of Anatel. Present at the event were Mr. Marconi Thomaz de Souza Maya, Anatel Superintendent of Grants and Resources for Provisions and Vânia Maria da Silva, Tawfic Awwad Junior, Marcos Estevo de Oliveira Correa, Afonso Rocha Ferreira Júnior and Marcos Vinicius Ramos da Cruz, members of the Anatel Special Bidding Commission. Jurandir Pitsch, Vice President, Commercial for Latin America-South, represented SES.
The SES infosite is located at http://www.ses.com/