IEC Telecom Group has initiated a corporate restructuring that is designed to better accompany and align resources for the company's development in the maritime sector, while reinforcing the firm's position in their reference markets.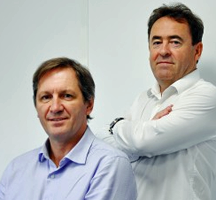 In conjunction with this reorganization, the board of directors has appointed Dominique Audion Group COO (Chief Operating Officer) Middle-East and Asia and Gwenaël Loheac, Group COO Europe.
Dominique Audion will oversee the business development of the Group in the Middle-East and Asian regions and Gwenael Loheac will be operating the development of the Group in Europe while remaining Managing Director of the business units IEC Telecom Europe.
The board fully trusts both Dominique and Gwenaël's 20 years' experience in the satellite industry and in the group. It is an asset to maximize the value of IEC Telecom Group and reinforce its expansion into its key markets. IEC Telecom Group has decided to boost expansion in the maritime VSAT industry and advanced solutions, a promising market that has already shown large commercial success in the past year. This reorganization is also aimed at strengthening the firm's presence and quality of service towards existing clients.