[Satnews] Globalstar Europe Satellite Services Ltd., a wholly owned subsidiary of Globalstar, Inc., (NYSE: GSAT) announces that 2015 was another record year for SPOT activations in Europe.
In addition, 41 customers were rescued last year in Europe, Middle East and Africa, thanks to SPOT's SOS functionality. This figure excludes rescues handled by VARs and other third parties.

SPOT delivers affordable, location-based messaging and life-saving emergency notification technology to tens of thousands of EMEA users, completely independent of mobile phone coverage. SPOT products make it easy to track adventurers in the wild and provide anti-theft protection for valuable assets such as boats, cars and bikes.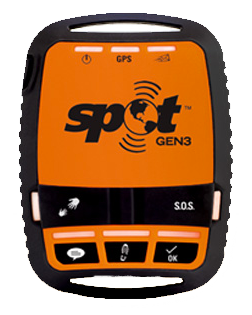 The French and UK markets have recorded particularly high growth with 360 and 74 percent increases in activations respectively since 2013. Spain and Germany also experienced strong growth. Highlights include the take-up of the SPOT Trace tracker in the burgeoning leisure marine and automotive sectors. Organizers of the Marathon Des Sables 2015, the world's most extreme running race, equipped each of the 1,450 runners with a SPOT Gen3 satellite tracker to reduce risk and aid rescues in the Sahara Desert. The SPOT Gen3 was instrumental in rescuing 18 athletes competing during the 2015 race.

In the last year, Globalstar has seen increasing interest from the B2B sector as businesses and NGOs fulfill their duty of care obligations to lone workers. Many emergency services organizations have come to rely on SPOT technology as well as recent new customers including Northumbrian Water Group, Spanish firefighters and Lebanese Red Cross.
One of the more notable SPOT rescues that recently took place in Europe was in October 2015. Dennis van Dokkum, a wilderness guide and survival instructor at Overleven Survival School was taking a team of adventurers to a remote part of Iceland when one of its Land Rovers got stuck on an underwater sandbank in a fast-flowing, glacier river. The four passengers escaped onto the roof of the vehicle and pressed SOS on their SPOT Messenger. Van Dokkum said, "SPOT worked perfectly, it was great. In just two hours the emergency services had rescued the stranded passengers and towed the vehicle out of the river. Everyone was warm, dry and safe."
David Phipps, Managing Director of Global Telesat Communications (GTC), a Globalstar reseller based in the UK, said, "We have seen sales of the SPOT Gen3 alone increase by 235% over the last two years and SPOT Trace sales have nearly doubled year-on-year. We anticipate continued success with sales of SPOT products due to massive demand from a wide variety of customers, ranging from individual recreational users to large corporate customers looking for low cost and reliable satellite tracking capabilities."

Gary King, EMEA Regional Sales Manager for SPOT, said, "Thanks to the great work being carried out by our network of dealers, resellers and VARs in EMEA, our business has grown substantially. Customers value SPOT's benefits, particularly the peace of mind that comes with our reliable, rock-solid satellite connectivity. SPOT continues to save lives in the outdoor and nautical sector worldwide and provides reliable tracking and man-down solutions for lone workers in industries such as government, defence, utilities and oil & gas. We look forward to another successful year in 2016."