[SatNews] C-COM Satellite Systems Inc., (TSX VENTURE:CMI) has revealed that their highly regarded iNetVu® auto-deploy antenna system was used during the Super Bowl to provide assured communications during this major sporting event.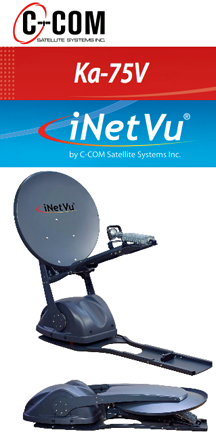 Deployed Communications and Technologies (DCAT) from Pennsylvania, an experienced C-COM mobile satellite service integrator, provided the complete turnkey system to deliver high speed broadband connectivity into NJ TRANSIT's Emergency Operations Center. The solution consisted of a C-COM iNetVu® Ka-75V satellite antenna paired with a modem and connectivity provided by ViaSat's Exede® Enterprise service. The easy to use, one button auto-deploy antenna system mounted on the roof NJ TRANSIT's portable Communications On Wheels (COW) trailer, delivered a solid 15Mbps downlink and 5Mbps uplink (with peaks reaching more than 26Mbps). Services provided with the link included broadband Internet connection into the trailer, Wi-Fi that could feed multiple trailers and a 8-line PBX Voice Over IP connection.
"The Exede service data rates provided reliable levels of primary and back-up service to the operations compound in the event of a failure or overload of terrestrial services. A five day joint effort got the system delivered, installed, commissioned and in service at the compound in time for pre-event testing," said Bruce Barton, President of DCAT.
"The high speeds provided by the Exede service in conjunction with the mobile iNetVu® Ka-75 are allowing responders to communicate faster and easier than ever before," said Justin Luczyk, Director of Business Development at ViaSat Inc.
"We are pleased to be able to assist first responders with a cost effective and reliable solution that the combined C-COM manufactured iNetVu® and the ViaSat provided Exede service delivers," said Leslie Klein, President & CEO of C-COM Satellite Systems Inc.
The C-COM infosite is accessible via http://www.c-comsat.com/