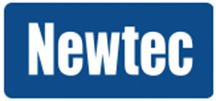 [Satnews] Newtec's CEO, Serge Van Herck, presented a HTS webinar last week to more than 500 participants that was entitled "Harnessing HTS Technology In A Multi-Service Era."—here are his thoughts...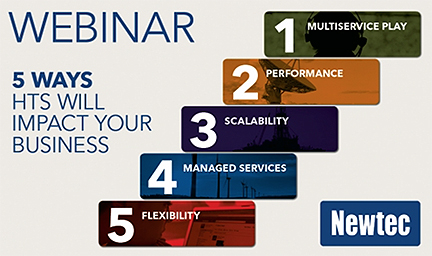 As our satellite industry continues to evolve, one area which remains of interest and continues to promise potential is High Throughput Satellite (HTS)—particularly when we consider this technology in relation to the rise of multi-service networks and the different applications beginning to leverage the benefits of it.

As such, charting the rise of HTS and addressing how it will impact our customers' business is a key focus for our industry and the ideal topic for me to present during last month's VSAT 2015 event in London and in our Newtec Webinar titled 'Expanding Addressable Markets with HTS' addressing:
The Rise of HTS
5 Ways HTS will Impact our Business
Use Cases

Click here to go to the recorded session video and slides as presented during the webinar.
THE RISE: HTS & MULTI-SERVICE
The rise of multi-service across the whole industry becomes very clear when we look at the evolution of HTS. When looking at what applications will use HTS, the biggest deployment of terminals by far will be broadband services but the lion's share of revenue generated will come from other applications, such as government, mobility, backhaul and enterprise.
This is highlighted by figures from Northern Sky Research which predict that 76 per cent of HTS revenues will come from non-broadband applications – all of which will use just 22 per cent of total capacity. This shows what a big advantage being equipped for the multi-service era will bring to service providers, with our Newtec Dialog® multi-service platform providing an efficient and scalable way of achieving this.
OPERATIONS BECOME MORE COMPLEX
With such a variety of applications set to use HTS, service providers need to be prepared for further changes, both in the short- and long-term future. As HTS is introduced more widely, it will result in more customers using more terminals over a wider geographic area, resulting in increased service footprint. With these developments, it stands to reason that there will need to be more investment in infrastructure, particularly as operations become more complex.
INCREASED NEED FOR MANAGED SERVICES
Due to this complexity, there will also be an increased need for managed services for end-users. Whereas today some end-users simply buy satellite capacity and provide services to their own community, this will become increasingly difficult as HTS continues to grow. In this scenario, VSAT providers will have to take on a crucial role and offer flexible managed services to end-users, providing specialized and proximate assistance and building a bridge between end-users and HTS operators.
Meanwhile, operators will need to evolve to not only sell capacity but also the infrastructure service providers require to enable service providers to define and productize their own tailored services towards the end-customers, without the need for investment in the initial network infrastructure.
MY HTS GUIDELINE
Essentially, ten years since it emerged, HTS is still evolving and with this is bringing enormous potential to operators and service providers alike. To ensure all parties continue to get the most out of HTS, unsurpassed performance, efficiency, flexibility and scalability, all the way through the chain from the satellite operator to the end-customer for various applications and markets, is vital. The way to achieve this is by choosing the right technologies.
You are invited to watch the Newtec Webinar titled 'Expanding Addressable Markets with HTS' that discusses the above topics with further explanations and use cases. Click here to go to the recorded session video and slides as presented during the webinars.