Orbit Logic has delivered scheduling software to the National Oceanographic and Atmospheric Administration (NOAA) to optimize NOAA ground terminal contacts with MEO satellites equipped to receive search and rescue distress alerts.

The solution helps improve the timeliness and location accuracy of distress alerts received by the satellites, leading to faster and more effective responses by rescue personnel. Orbit Logic's delivered solution will include STK Scheduler for contact schedule optimization, STK Pro for system modeling, STK Coverage for Dilution of Precision (DoP) computations, as well as a custom software plug-in to coordinate computations and generate updated contact schedules on demand.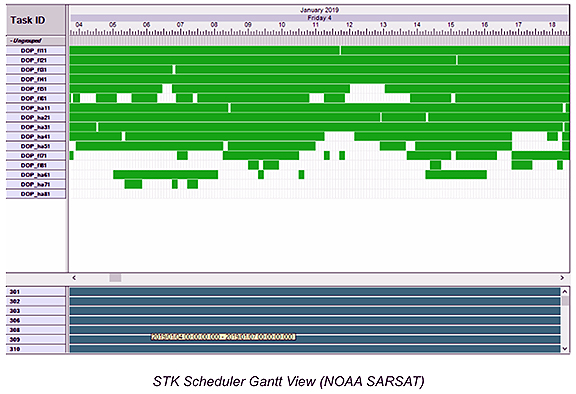 There are a growing number of MEO satellites equipped to receive search and rescue distress signals. Distress signals received by the satellites get relayed to NOAA ground terminals, which send the signals on to appropriate rescue organizations. The number of MEO satellites on orbit now exceeds the number of NOAA ground terminals, so decisions need to be made about which satellites the terminals should point at to receive relayed distress calls.
Orbit Logic developed a COTS-based solution that uses STK Pro and STK Coverage to compute DoP for all possible satellite contact combinations, then passes this information to STK Scheduler. STK Scheduler uses this information to generate ground terminal pointing schedules optimized to provide the best possible geolocation accuracy of distress signals. STK Scheduler models the system as a set of prioritized communications tasks with weighted preferences for resource (satellite) combinations over time. Scheduler generates a new, optimized contact schedule within seconds, allowing for quick updates as conditions change.