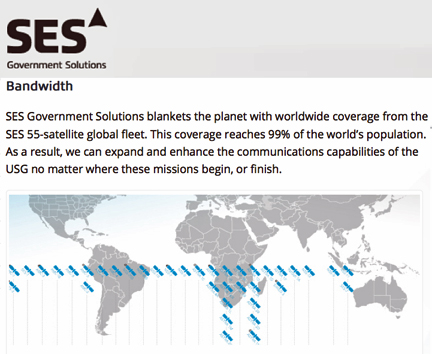 [SatNews] SES Government Solutions (SES GS) has received General Services Administration (GSA) approval to offer O3b services on their GSA Schedule as of July 8, 2014—this allows SES GS to be the first distribution partner to offer O3b capability directly to the U.S. Government.

U.S. Government agencies can now purchase O3b bandwidth, whole beams, gateway IP connectivity, modems, and ground and maritime terminals using the Special Item Numbers (SINs) 132-8, 132-54 and 132-55. Additionally, O3b products and capacity will be available for Future COMSATCOM Services Acquisition (FCSA), which is a joint initiative by the U.S. General Services Administration (GSA) and the Defense Information Systems Agency (DISA). This is the largest, most commonly used SATCOM acquisition vehicle in the U.S. Government and it provides direct access to products and services for more than 5,000 certified industry players. Vendors undergo a strict application process, which includes negotiations on fair and reasonable pricing.
GSA's approval coincides with the successful launch of O3b's four satellites on Thursday, July 10, 2014, with another four scheduled for launch early next year. The O3b network of satellites will allow for satellite capabilities with the speed of fiber, providing U.S. government customers with low latency and high bandwidth connectivity.
To learn more, please visit the SES GS infosite at http://www.ses-gs.com/
The O3b Networks infosite may be accessed via http://www.o3bnetworks.com/