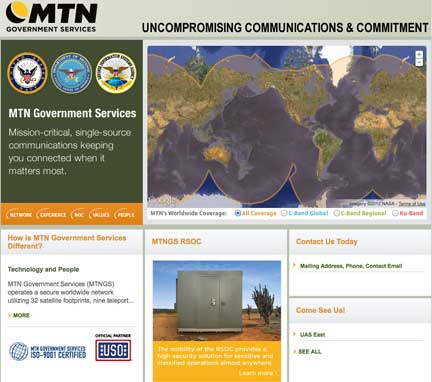 [SatNews] MTN Government Services (MTNGS), a subsidiary of MTN Satellite Communications (MTN) has been awarded a contract supporting the...
...Department of Defense (DoD) to provide a Re-deployable Secure Operations Center (RSOC). The MTNGS RSOC will be used by the DoD as a Sensitive Compartmented Information Facility (SCIF). The RSOC is the industry's most secure, self-standing rapidly deployable and re-deployable SCIF facility that can be drop-shipped into any environment and assembled within a few days.
Under terms of the contract MTNGS will work closely with its client to provide a turn-key, fully configured SCIF, to include all power, low-voltage and security infrastructure (standard features included within the delivery of every RSOC), requiring minimal integration by the customer. Unlike traditional SCIFs, the RSOC is self-supporting and capable of withstanding multiple disassemblies and redeployments without degradation. This allows MTNGS clients to operate securely wherever the RSOC is deployed and easily re-purpose and move their operations as needed with minimal downtime to support other missions. Unique to the RSOC system, each procurement includes project management, equipment installation, accreditation support and testing in support of the RSOC implementation.
The RSOC's construction is based off of the Intelligence Community Directive (ICD) 705 technical specification, the security standard regulating the construction of facilities which store and process sensitive U.S. government information. The facility is constructed of 4" thick modular panels, welded with inner and outer steel with high-density insulation to aid in exceeding sound attenuation standards. In addition, there is a unique sound masking system and additional countermeasures designed to support accreditation through multiple agencies and components. Power, data and voice connections pass securely through a customizable "single point of entry" configured to address the various needs for CONUS, OCONUS and MIL-SPEC connections.