Kratos Defense & Security Solutions, Inc. (Nasdaq:KTOS) has announced that SKY Perfect JSAT (SJC) has selected satID®, version 3.20, as their satellite interference geolocation solution — SJC becomes the first satellite operator to take advantage of satID's most recent TDMA network geolocation capability to combat VSAT interference and assure the highest quality of service for customers.
SJC, Asia's largest satellite operator, purchased satID, in part, because of the product's highly scalable architecture and powerful interference mitigation capabilities. The system enables the cost-effective expansion of SJC's geolocation capability to multiple sites using the existing operational antennas at C- and Ku-band.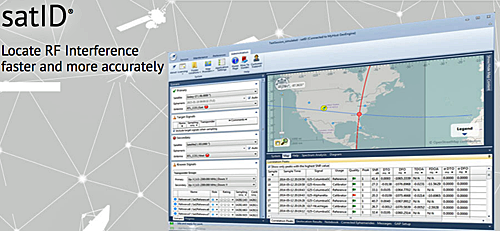 According to Kratos, satID® is recognized as the industry's most accurate geolocation product, routinely locating satellite interference well within 5 km of the source. As part of the purchase of satID, SJC is taking advantage of several modules available for satID including the TDMA network geolocation, signal cancellation and advanced spectrum analysis capabilities.
Kratos' satID is part of the Monics family of advanced carrier monitoring and interference mitigation suite of products. The RFI mitigation suite includes carrier monitoring capabilities from Monics, VSAT interference management from SatGuard and signal cancellation from SigX. The Monics family offers the most complete and unmatched capabilities to monitor and mitigate the costly effects of interference.
Hideo Hayashi, General Manager of SJC's Service Operations Division, reported that the company continually invests in technologies that help the firm provide the best possible service to customers and satellite service users. The new satID system will help SKY Perfect JSAT significantly expand and improve our geolocation efforts and address interference issues caused by the growth of VSAT systems with the latest in TDMA geolocation technology.
David Wilkinson, Kratos' satID Product Manager, added that the satID TDMA geolocation capability dramatically increases the reliability, traceability and accuracy of results. NOC staff are able to significantly accelerate troubleshooting efforts by identifying the specific VSAT terminals causing interference and pinpointing their exact location."