Astrobotic, which is building a service to make the Moon accessible to the world, has announced that DHL and Airbus Defence and Space are supporting their efforts in the development of a lunar payload delivery service.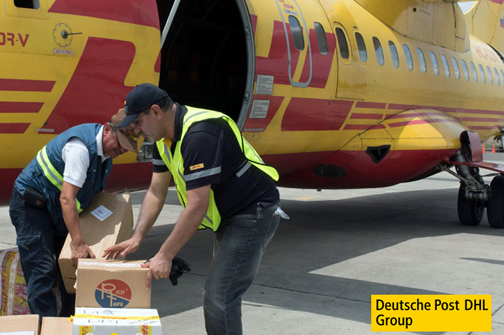 Deutsche Post DHL Group will become the "Official Logistics Provider for Astrobotic's First Mission to the Moon." DHL will provide logistics services for Astrobotic's spacecraft and their customer payloads, making certain that all materials for the new lunar lander, as well as the 'space freight,' will arrive safe and on time to begin their journey to the Moon.
Airbus Defence and Space, the world's second largest space company, will contribute initial engineering support to Astrobotic through a Memorandum of Understanding, as the company advances its lunar lander design to a preliminary design review. Airbus Defence and Space brings world-class spacecraft experience in human spaceflight and exploration and leverages previous lander development work with the European Space Agency.

Together, this team will advance the technical maturity of the new "Peregrine" Lunar Lander towards the next big development milestone. Peregrine builds on eight years of Astrobotic lunar lander development and will carry Astrobotic's first delivery of payloads to the lunar surface. Peregrine will fly as a secondary payload on its first mission, with the ability to fly on Astrobotic's future missions thereafter. Peregrine offers mission flexibility with a 35 to 265 kilogram payload capacity. This enables secondary flights on several different launch vehicles. The lander will be powered with an Aerojet Rocketdyne propulsion system featuring nexgen space engine technology.
These announced partnerships build on an already existing Astrobotic relationship with NASA, through the Lunar CATALYST Program. NASA Lunar CATALYST provides Astrobotic access to some of the best spacecraft engineers and facilities in the world, as part of NASA's effort to encourage the development of U.S. commercial robotic lunar lander capabilities.
Arjan Sissing, Senior Vice President, Global Brand Marketing, Deutsche Post DHL Group, stated that, "DHL has a proud history of connecting its customers to the world. Moon exploration is also a theme that has a special historical significance for us—DHL was founded in 1969, the year of the first moon landing. We are excited to be embarking upon this incredible venture into the next era of logistics—beyond Earth and to the Moon—and look forward to partnering with Astrobotic to open a new frontier in space and to further developing lunar logistics in the future."
"Airbus Defence and Space clearly regards Astrobotic as the front runner in commercial lunar transportation services. With our signed Memorandum of Understanding, we have now the opportunity to assess options to further strengthen this cooperation and to become a true partner in the global endeavor to provide a commercial gateway to the moon," said Bart Reijnen, Senior Vice President of On-Orbit Services & Exploration.
"This event marks a new era in commercial lunar activity. With Airbus Defence and Space, DHL, Aerojet Rocketdyne, and NASA, Astrobotic has built a world-class team to make the Moon accessible to the world with the Peregrine Lander," said John Thornton, CEO of Astrobotic.