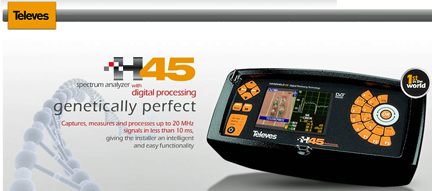 [SatNews] Televes has received approval from Dish Network for it's invisible watermarking on the company's suite of Clear QAM Encoders.
The line of Televes Clear QAM Encoders include a Component only, Component and HDMI, and Composite input version. The Component and HDMI versions encode two video inputs up to 1080p on a single RF channel up to 1024QAM Annex A or B in an extended frequency range of 5 to 1002MHz. The Composite version takes 4 SD inputs and outputs a single CATV channel the same as the HD versions. All versions provide Dolby Digital from analog or digital inputs, closed captioning, EAS support, and include ASI input and output for easy EAS signal management, all with the innovative Televes integrated RF combiner. All versions encode both MPEG-2 and H.264 with an invisible watermarking option for forensic video analysis. All this with the same form factor and remote control capability of the T.0X family of products, for easy stand alone customer control or integration in a unified video headend.
The entire line of Clear QAM Encoders, supports all 3 ATSC A65 defined Terrestrial and Cable Virtual Channel tables making for a perfect solution for residential or commercial installations. The video and RF quality as well as manufacturing consistency, rugged construction, and extensive features make these professional products but the price and ease of use make them perfect for any size commercial headend as well as in a home theater application. These latest products from Televes' pioneering R&D teams, combine the ease of use expected in today's smartphone world with remote control capability and the reliability that has come to be expected from Televes equipment, all at industry leading prices. The ability to provide a complete package of headend, distribution, antennas, fiber optics, and test equipment is at the heart of Televes' offering all while maximizing cost-effectiveness and total quality control through our internal design, development, and manufacturing capabilities.
The Televes infosite is located at.