Norsat International Inc. (TSX: NII and NYSE MKT: NSAT) has received an approximate $3.3 million order for its GLOBETrekker 2.0 portable satellite terminals from a US Combat Support Agency supporting the US. Department of Defense and Intelligence Community.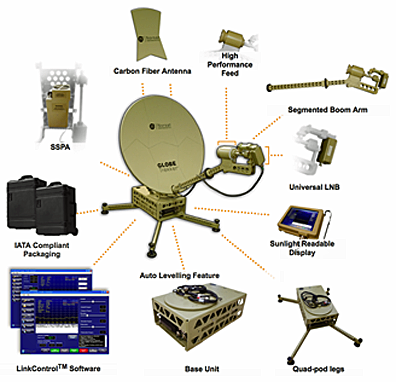 The GLOBETrekker 2.0 is an intelligent fly-away satellite terminal with unsurpassed reliability, advanced auto-acquire technology, and a flexible deployment platform. A simple one touch interface and the LinkControl™ software allow for automatic satellite acquisition so less experienced operators can easily use the system while multi-tasking on other field operations setup tasks. These military-grade, auto-acquire terminals will provide:
Dual-band (X- and Ku-band) connectivity to ensure access worldwide depending on the satellite and bandwidth available in the area of deployment
An integrated optic module to link the Outdoor Unit (ODU) to an Indoor Unit (IDU) modem over great distance without added weight
The ability to quickly and easily change the RF equipment which makes the GLOBETrekker very adaptable to meet the changing requirements of the customer.

The customer, who has worked with Norsat previously, selected the GLOBETrekker 2.0 terminal due to the functionality of our built in spectrum analyzer, the ruggedness of the unit, the sunlight readable display and LinkControl profile which makes the system very easy to use. Norsat expects to start the shipments of the terminals during the 1st half of 2017.