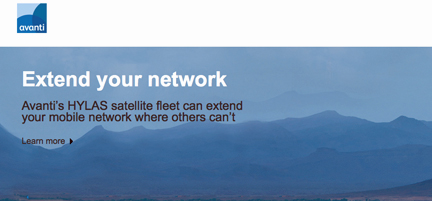 [SatNews] Avanti Communications has been awarded Business Superbrands status for 2015, following the most recent evaluation of the long-running annual survey, which has been identifying the UK's leading business-to-business brands since 2001.
The process was managed by The Centre for Brand Analysis (TCBA) and questioned 2,000 individual business professionals from across the UK as well as the independent and voluntary Business Superbrands Council. The three audiences judged more than 1,200 brands, which they assessed on three key criteria: quality, reliability and distinction.

Stephen Cheliotis, Chairman of the Business Superbrands Council, said, "Having a strong reputation is as essential in business-business markets as in business-consumer markets. That said it is often ignored by management, or certainly lower in the list of priorities, for many business-business companies, meaning they miss out on the clear benefits a strong brand provides. Those brands awarded Business Superbrand status should therefore be praised for focusing on, and more importantly succeeding in, building a recognizable, powerful and respected brand. The competitive edge the leading Business Superbrands can enjoy is just reward for their endeavors and creates a virtuous circle that will further reaffirm their positive position relative to peers."

Commenting on the Business Superbrand status, Matthew O'Connor, Chief Operating Officer at Avanti Communications, said, "The award of Business Superbrand 2015 status serves as very welcome recognition of our strategy. We put customers first and deliver a level of quality and flexibility to telecoms companies that is unparalleled in the satellite industry. That World beating new technology is underpinned by the dedication and hard work of our employees who live our brand values to the full every day."

Avanti Communications is exhibiting at Mobile World Congress (March 2nd through 5th) in Barcelona. Visit the team on stand 7G37 to find out more about the company and their services.