Recognition for a talent by one's peers is certainly a rewarding experience, so how about two awards for the same skill in one month? Clyde Space of Glasgow, Scotland received two awards in one month for the same achievement' that being innovation.
Clyde Space enjoyed receiving The Sunday Times SME Export Track 100 award for innovation, sponsored by Lloyds Banking Group, just weeks after being given the Queen's Award for Enterprise in the innovation category.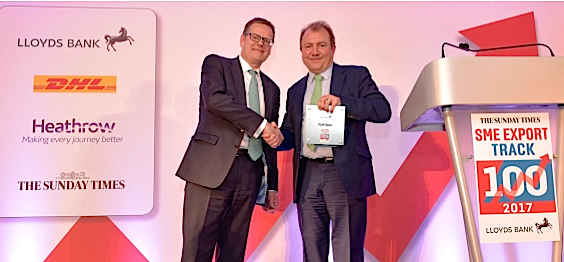 The latest award was presented at a ceremony in London to Clyde Space Non-Executive Chairman Will Whitehorn, a former President of Virgin Galactic, by Tim Hinton of Lloyds banking Group.Speaking at the presentation, Will said: "Almost everything that's happening at the moment, in terms of industrial development in Silicon Valley, has got an eye to space. It is the place where most things they are doing now are happening. As it is getting much cheaper to access space technology, almost every big company within 10 years will hope to have a satellite, and hopefully Clyde Space will be involved in making them.
Craig Clark, Clyde Space chief executive said he was "delighted" at the recognition of the achievements by the company and its staff. He added that innovation is at the forefront of everything done at Clyde Space. Their business is based on the provision of cutting-edge products for the fast-growing small satellite sector. Clyde Space is widely considered as the industry's Quality Innovator, meaning that they are able to balance the introduction of new ideas and technologies into their products while maintaining the quality of design and production expected of something that needs to operate in the harsh environment of space for many years. Their approach to innovation is enabling a range of exciting commercial and science applications of space.
Craig, who was made an MBE for services to innovation and technology continued that last year Glasgow produced more than 60 satellites, more than any other city outside of Silicon Valley. This is as a direct result of investing heavily in the development of new products and production capabilities, including the design and launch of world's most advanced nanosatellite and a nanosatellite assembly line.
Clyde Space was listed in February on The Sunday Times SME Export Track 100 league table which ranks Britain's 100 small and medium-sized (SME) companies with the fastest-growing international sales over the latest two years. It was also shortlisted for the Financial Times Boldness in Business Awards 2017, the HSBC Scottish Export Awards 2017 and won the Glasgow Business Award for Innovation in 2016.
Clyde Space was founded in 2005 and is recognized as a small spacecraft systems provider following the launch of Scotland's first spacecraft, a CubeSat for the UK Space Agency, in July 2014. The spacecraft was the first of its kind to be commissioned by the UK Space Agency and has since successfully completed its mission.
Clyde Space is backed by Scottish investment companies Coralinn LLP and Nevis Capital.