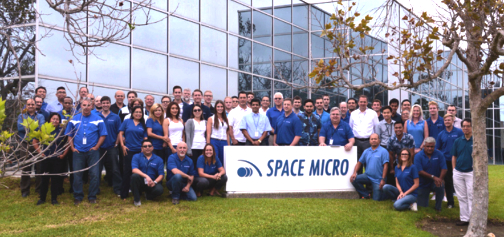 Space Micro has received a $3 million award by the USAF Space and Missile Center (SMC) for the development of modified laser secure communications terminals to be used for upcoming Air Force missions.
The U.S. Space and Missile Systems Center (SMC) conducted their Pitch Day to enable the quick acquisition of technologies for military use. Dr. Will Roper, assistant secretary of the Air Force for acquisition, technology and logistics, has championed these rapid acquisition events.
Space Micro's µLCT™ 100 Laser Communication Terminal operates at a phenomenal data rate of 100 Gbps. It is based on space-qualified, Telcordia-grade 1550 nm telecom components and boasts a SEL threshold of > 60 MeV-cm2/mg, SEFI immunity, and 30 krads(Si) total ionizing dose tolerance, with the option of reaching up to 100 krads(Si).
Space Micro's µLCT 100 comprises an optical modem, optical power amplifiers, pointing, acquisition and tracking (PAT) electronics and an optical head. The µLCT 100 can be used as an OISL (Optical Inter-Satellite Link), a spacecraft to ground link or a spacecraft to UAV link.
SMC commander and USAF Space program executive officer, Lt. Gen. John Thompson, said the Air Force is leveraging modern commercial business practices to enable the rapid development of small business ecosystems that have dual-use, cutting-edge technologies to enable the fielding of fast, relevant and affordable solutions that support our Air Force.
David J. Strobel, Space Micro CEO, added that the company is pleased to be in this select group of companies to present the firm's advanced secure space communications technology and products to senior Air Force and DoD officials — and then the company was selected for the maximum contract value of $3.0 million. Signing the initial contract on the spot within 10 minutes of verbal selection was truly amazing.