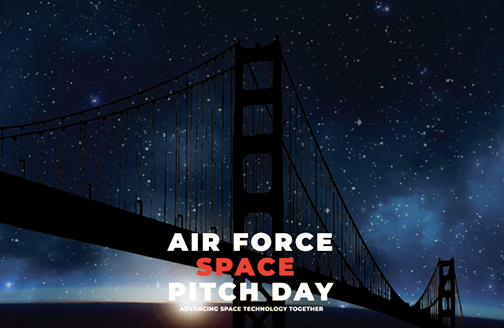 With up to $50 million in contracts on the line, non-traditional and small business are gathering tomorrow to attend the U.S. Air Force Space Pitch Day event hosted by the Space and Missile Systems Center (SMC), November 5-6, in San Francisco, California.
This two-day event will feature keynotes, expert panels, innovative startup pitches, an expo floor of more than 60 booths and the potential for the participating small companies to win an on-the-spot contract with the U.S. Air Force (USAF). The two-day event emphasizes the USAF's initiative on a faster and smarter strategy in technology investments and partnerships awarding approximately $50 million in contract awards.
Companies are pitching their big ideas on the topics that are relevant to space, such as innovation in early missile detection and warning, space situational awareness, space communications, space visualization, multi-domain command and control, data mining, operations within electronically contested environments, artificial intelligence, responsive launch systems, space logistics, and protection of critical space assets.
The USAF Small Business Innovation and Research program partnered with various Air Force units to host 12 other pitch day events all over the United States through the end of 2019. What makes space pitch day unique compared to other pitch days is the internal partnerships between the end user warfighter and small businesses vying for a chance to work with the USAF.
Lt. Gen. John Thompson, SMC's Space Program Executive Officer and SMC Commander, said the Air Force is leveraging modern commercial business practices to enable the rapid development of small business ecosystems that have dual-use cutting edge technologies to enable the fielding of fast, relevant and affordable solutions that support our Air Force.
Dr. William Roper, Air Force Assistant Secretary for Acquisition, Technology, and Logistics, added that everything we do is about the warfighter's mission. Space pitch day demonstrates the Air Force's willingness and ability to work with non-traditional startups and a great example of us going faster and smarter. It's not just a tag line; it's a dead serious business about keeping the Air Force competitive and dominant.
A surprise guest made an appearance at this event, none other than Elon Musk. During a Q&A with Lt. General Thompson, he stated that reusable rockets are certainly the future of the launch industry and his company, SpaceX, is in the midst of developing the firm's Starship system which will have the capability of launching up to 150 tons into LEO — Musk called the Starship the upcoming "holy grail" of the space industry.
During this USAF event, $750,00 in Small Business Innovation Research Phase 2 awards were awarded to 12 companies — Roper indicated that additional contracts with commercial firms are also in the works. The companies that garnered these awards will shortly publicize their plans for their funds.