[SatNews] Ultra Electronics AEP has signed a global agreement with Thuraya Telecommunications Company which enables Thuraya to offer a complete end-to-end solution comprising the Communicate and Encrypt range of solutions geared towards end users in the government sector.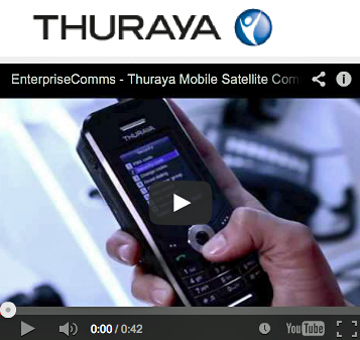 Incorporated within Communicate, the Ultra Electronics AEP solution enhances mobile satellite communications, providing agnostic, seamless switching between the Thuraya's satellite and terrestrial network connections and comprises built-in encryption to the highest standards. In addition to supporting government users, the Solution may also be attractive to Thuraya's customers in the energy, media, maritime and humanitarian NGOs sectors.

Randy Roberts, Vice President of Innovation at Thuraya, said, "Users in the government sector demand solutions that are secure and highly reliable at all times. Our partnership with Ultra Electronics AEP enables us to offer extremely secure communications over our robust satellite network. It also allows users to switch seamlessly between Thuraya's satellite network and available terrestrial connections for clear communications and uninterrupted coverage no matter where they are deployed."

James Tolfree, Global Sales Director at Ultra Electronics AEP, said, "This agreement is an important step forward and provides AEP with enormous reach via Thuraya's mobile satellite presence across two-thirds of the globe. This is a strong endorsement of our product range, one of the few on the market to be accredited to protect the information assets of the UK and other government's data."
For further details regarding Ultra Electronics AEP, please visit http://www.ultra-aep.com/
To learn more about Thuraya Telecommunications, their infosite is accessible via http://www.thuraya.com/