Telesat has new service contracts with SpeedCast International Limited (SpeedCast).

Telesat's Ku-band coverage over the North Atlantic Ocean Region on Telstar 14R and Telstar 11N has driven the growth of mobile broadband. The company's new Telstar 12 VANTAGE satellite adds HTS capacity over the North Sea, the Mediterranean and the Caribbean. Telstar 12 VANTAGE also has a South Atlantic Ku-band beam, which SpeedCast is now using to serve vessels operating in remote and harsh environments off South America's east coast and between South America and Africa.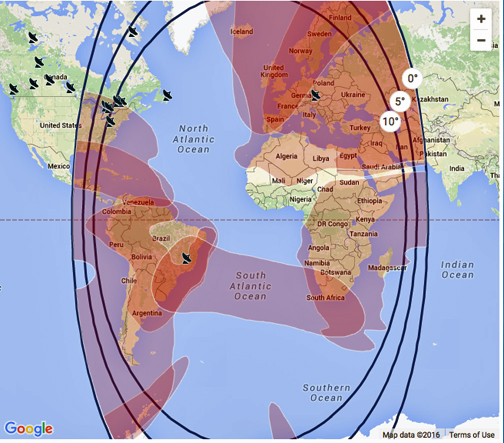 SpeedCast is expanding its use of Telesat space segment as well as expanding their presence in Telesat's state-of-the-art teleport located at Mount Jackson in Virginia. SpeedCast's new infrastructure at Mount Jackson gives them greater control over their global capacity and enables SpeedCast to seamlessly access the South Atlantic beam of Telstar 12 VANTAGE.
Mr. Moti Shulman, Vice President Technology & Network Planning of SpeedCast, explained that the two companies have been working together for more than a decade on building a global market for mobile and fixed broadband. He also indicated that, thanks to Telesat's South Atlantic spot beam and Europe beam, SpeedCast can effectively manage their capacity and provide better service quality and coverage to their clients.
Tom Eaton, Vice President, International Sales for Telesat, stated that SpeedCast has the resources and expertise to compare any number of satellite options and that their decision in selecting Telstar 12 VANTAGE as well as their increase in presence at the Telesat Mount Jackson teleport is a tribute to the performance and value offered by Telesat.