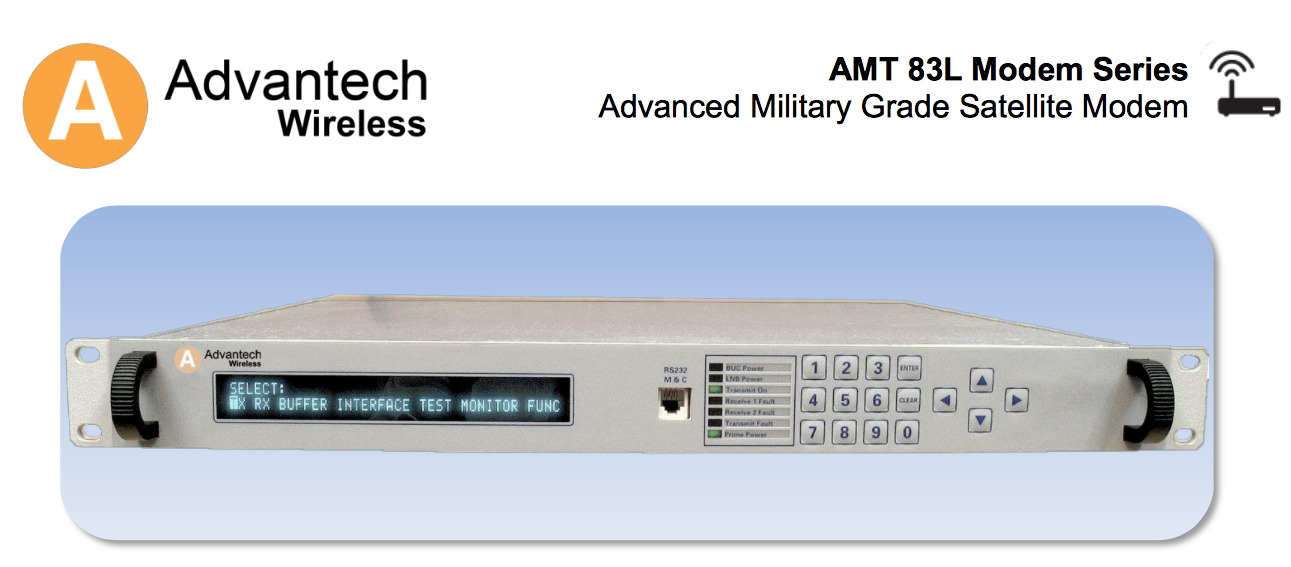 Advantech Wireless has a new AMT-83L military-grade satellite modem that will be on view next month, March 7-9, at Satellite 2017 in Washington. D.C. at booth No. 1609.
This new modem continues the line of the AMT-73L and is the first worldwide satellite modem to be certified with MIL-STD-188-165A by DISA. These modems were designed to fulfill two-way satellite gateway communication requirements in Defense Satellite Communications Systems (DSCS).
Based on Advantech Wireless' Software Defined Radio architecture, the new AMT-83L satellite modem adds a number of advanced features to the DISA certified AMT-73L series. Among these new features there are:
DVB-S2 with LDPC Coding and Adaptive Coding and Modulation (ACM)
IP data interface
GSE encapsulation
Direct Sequence Spread Spectrum (DSSS) spreading
Available with AES 128/256 Encryption
The AMT-83L also supports much higher data rates, full-fledged IP traffic with built in router, and GSE encapsulation.
Cristi Damian, VP Business Development at Advantech Wireless remarked that the AMT-73L series of DISA certified modems have accumulated years of outstanding performance in the field, gaining market recognition, and that the new generation of AMT-83L modems, have much higher data rate support, advanced mod/cods, and spread spectrum. The advanced modems enable complex network architectures, operating either as a traditional Satcom-On-The-Pause terminal or as Satcom-On-The-Move, that don't require any hardware changes.