The SCARBO (Space CARBon Observatory) project for improved measurement of greenhouse gases has been officially kicked off — the mission is funded by the European Union (EU) Horizon 2020 Program and will be implemented by a consortium of seven European organizations led by Airbus.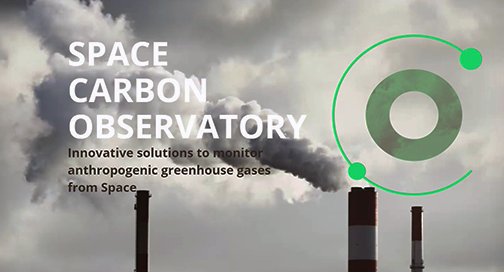 The project aims at solving a key challenge of anthropogenic greenhouse gases (GHGs) monitoring from Space: improvement of the temporal revisit over the various sites of interest while increasing the accuracy and resolution of measurements. This is envisaged by implementing a novel miniaturized static spectrometer concept on a constellation of small satellites coupled with aerosol sensors and high end reference instruments.

A few days ago, the consortium held their first User Advisory Board at Airbus in Toulouse, France, to ensure all key users' needs (international, national and local institutions, European Commission, downstream industry and Space Agencies) are considered in the solution definition.
The overall measurement concept will be experimentally validated through a dedicated airborne campaign with instrument prototypes in 2020. SCARBO is expected to be ready to work as a complementary system with the second generation of Copernicus satellites within a decade. The consortium will assess commercial perspectives beyond institutional use of its data products at global, regional and local scales.

This project has received funding from the European Union's H2020 research and innovation program under grant agreement No 769032.

Hugo Zunker, Copernicus Policy officer at the European Commission, said that the emerging policy needs for anthropogenic greenhouse gases monitoring from Space call for frequent observations, high accuracy and spatial resolution. To this end the Commission is currently considering to possibly expand its constellation of Copernicus satellites, going beyond what Copernicus can do and complement the tremendous data provided by the Sentinels.

Mathilde Royer-Germain, Head of Earth Observation, Navigation and Science at Airbus Space System, noted that this project is part of the company's continuous drive to bring disruptive technology to the space business by seeking new flexible and affordable solutions. Airbus is strongly committed to the world's effort to combat climate change and its impacts to the planet.