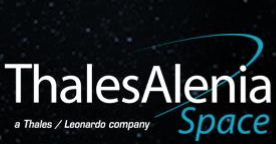 A cooperative agreement between University of Turin and Thales Alenia Space will create strategic aerospace hubs in Italy resulting in an economically positive venture.
Thales Alenia Space, a joint venture between Thales (67 percent) and Leonardo (33 percent), today signed a co-operation agreement for technical-scientific and training with the University of Turin confirming both Turin and the Piedmont region as strategic hubs for the aerospace sector in Italy.
Signed by Donato Amoroso, CEO of Thales Alenia Space Italia and Gianmaria Ajani, Chancellor of the University of Turin, the agreement materializes a long-term strategic co-operation program in which research, innovation and training are tightly integrated with economic and productive aspects. Partnerships such as this between universities and businesses are a powerful source of excellence in cutting-edge areas, expanding on initiatives already in place in the aerospace sector.
In particular, Thales Alenia Space and the University will collaborate in several scientific sectors of interest to the aerospace industry, including
physics and chemistry
the study of cosmic radiations and water quality
materials science
information technology
The program will also cover the study of metallic and polymer materials for future spaceships and virtual reality, as well as biology and geology (analysis of extra-terrestrial rocks and zero-gravity cultivation), plus a variety of topics ranging from medicine to physics by studying the impact of space on different aspects of health. Cooperation is also being envisaged in space-related issues in other areas such as sociology, economy and law.
Donato Amoroso, CEO of Thales Alenia Space Italia said that the co-operation agreement signed today underlines the importance of the R&D department as a priority focus within the corporate strategy of Thales Alenia Space. This strategy promotes initiatives that drive innovation, working with other businesses and the academic community in order to encourage employment growth and train young people, confirming the cross-cutting nature of the aerospace sector.
Rector Gianmaria Ajani said that the University is a benchmark in the Piedmont region as far as the aerospace sector is concerned and their taking part in the Aerospace District and in the successful Aerospace Platform projects proves it. In recent years, several collaborations have developed between The University of Turin and Thales Alenia Space. In particular, their Departments have ongoing collaborations in the field of new materials and on the effects of cosmic radiation on the astronauts' health.