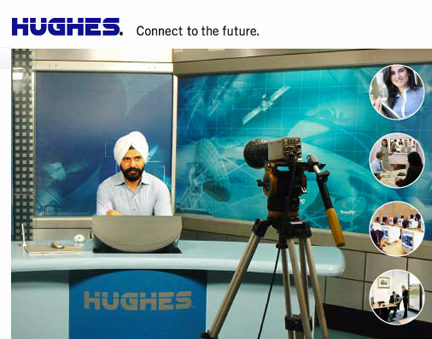 Hughes India has indicated a willingness to invest as much as $500 million to establish a satellite system in India to connect education and healthcare with high-speed, broadband Internet.
If private parties are allowed to establish satellite communications, the current high cost of satellite broadband could well be diminished which, in turn, would alleviate the load on the sole supplier of such services, the Indian Department of Space. No private player has previously been approved by the Indian government to establish a SATCOM policy for the nation.
Another hurdle to the large scale adoption of the technology in India has been the lack of actual implementation of the SATCOM policy, which has been in place since the year 2000, but has not granted approval to any private player, so far.
This is where Hughes sees an opportunity. As the Department of Space gives permissions to SATCOM operators and, as they are also a SATCOM services operator, such could well be the reason for a rather slow implementation of additional, non-Department of Space services.According to Pradman Kaul, the President of Hughes Network Systems, the market for SATCOM is the one area that cannot be served by WiFi. Even in developed countries such as the US, about 10 percent of households will never have access through terrestrial technology, such as fiber or wireless. This last 10 percent unserved or underserved Hughes has been working on technologies using SATCOM to serve this population.
Kaul also related that companies that are interested in establishing a satellite system have to obtain permission from the country's Department of Space which, as of this writing, has never granted such dispensations. Kaul hopes the Hughes India proposal will find merit with the agency and enable them to proceed with an implementation plan to bring additional SATCOM services to India.
According to the Indian Space Research Organization (ISRO), barely half of the country is SATCOM served—the nation's 34 working satellites are simply not enough to take care of demand. Hughes India hopes to, at least partially, remedy that situation.
Story sourced from ET Tech.