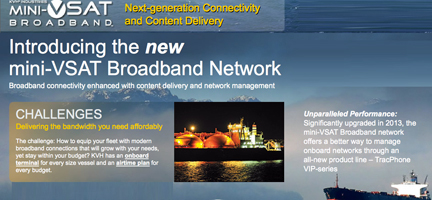 [SatNews] KVH Industries, Inc., (Nasdaq:KVHI) has doubled the capacity of its mini-VSAT Broadband(SM) network in the oil- and gas-rich areas off the West African coast, where maritime traffic and customer demands are surging.
This additional Ku-band capacity, which became available in April, addresses demand in an area where offshore supply vessels (OSVs) are the critical link between drilling rigs, cargo ships, and operations on shore. This area includes the international offshore waters of western Africa, where oil industry activity is increasing, and reliable satellite communications is vital to improving the quality of life and safety for crews and ships. The capacity increase in Africa follows a model KVH built successfully in the Gulf of Mexico, where the mini-VSAT Broadband network provides extensive satellite coverage for offshore supply vessels.
According to reports from the U.S. Energy Information Administration, Africa's proven oil reserves have grown 120 percent in the past three decades, from 57 billion barrels to 124 billion barrels, with at least another 100 billion barrels waiting to be discovered. Proven reserves of natural gas have grown 140 percent in that time.
"Many of the offshore supply vessels operating across the globe rely on our mini-VSAT Broadband service, and we've seen how valuable this service can be in regions with strong oil industry activity, such as the Gulf of Mexico, Brazil, and the North Sea. With demand rising along Africa's western coast, we're proud to deliver more capacity and better service for our OSV customers, as well as the busy shipping lanes in the region," said Brent Bruun, executive vice president of KVH's Mobile Broadband Group.
KVH's mini-VSAT Broadband network is the dominant player in the global maritime VSAT market, with twice the market share of its closest competitor, according to a 2014 industry report by Euroconsult. KVH and its technology partner, ViaSat, Inc., (Nasdaq:VSAT), use ArcLight® spread spectrum technology to deliver fast broadband service, with Internet download speeds up to 4Mbps.
The mini-VSAT Broadband network covers 100 percent of the maritime market through a combination of 19 Ku-band transponders and three C-band beams. KVH has built this global infrastructure by leasing available commercial satellite capacity, rather than investing in its own satellites, leading to lower costs and better prices for customers. Designed exclusively for the mini-VSAT Broadband network, KVH's unique TracPhone® V-IP satellite communications antenna systems are built 85 percent smaller than typical VSAT antennas to install more easily in all vessels. With antenna sizes ranging from 37 cm (14.5 inches) to 1.1 meter (42.5 inches), there's a TracPhone V-IP system for vessels of every size.
The ongoing expansion of the mini-VSAT Broadband network in Africa follows network upgrades in other parts of the globe and supports KVH's recently announced IP-MobileCast™ content delivery service, which will be available to subscribers this month. Using the same broadband network already streaming into more than 4,000 onboard terminals worldwide, IP-MobileCast will deliver a separate data steam of licensed news, sports, entertainment, and training content—improving quality of life for crews aboard commercial vessels—as well as operational data such as electronic chart updates and weather information.
Further information regarding KVH Industries is available at their infosite, which is located at http://www.minivsat.com/vip