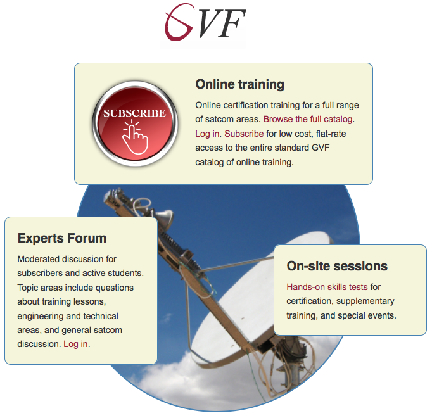 The GVF Experts Forum is a free, moderated discussion area dedicated for discussions of training courses and any other SATCOM technical topics.
The forum is monitored by the SatProf instructors and guest experts who are available to participate in conversations and to answer questions from learners and the SATCOM community. Now, GVF extends an invitation to all of the organization's past students to participate. If you have taken any GVF courses in the past, whether or not you completed a certification, you are welcome to log in to your student account and click on "Experts Forum" icon on your dashboard. There, you will find a range of topic areas and conversations. You are invited to help current students with their questions, ask your own questions, and share your experience with colleagues across the SATCOM industry. If you need any help accessing your account or updating your profile, please contact us at gvfsupport@satprof.com.
GVF Knowledge Center
Social Buttons Added to Enrollment and Completion Emails
Now you can easily post course enrollment and completion information on Facebook, Twitter, and LinkedIn. Look for the new "share buttons" in your GVF course enrollment and completion emails and share your accomplishments with one click. In addition, once you complete a GVF Certification, your congratulations email will include an "Add to Profile" LinkedIn button. By clicking on it, your certification will appear directly on your LinkedIn profile.
Use these links to show GVF training course completions and certifications on your Facebook, Twitter, and LinkedIn profiles alongside your professional references and work history. According to LinkedIn, members who display certifications get six times more profile views than those who don't.
Additionally, we have added the option for your Facebook, Twitter, and LinkedIn links to be included in your profile. Make sure to go to Edit My Profile to add your social account links. If you are being shown in the GVF public certification database, your social network links will now appear in your profile!
GVF Knowledge Center
Submit an Engineering Paper for the Applied Innovation Conference
The deadline for submissions of short abstracts for the October Applied Innovation Conference is coming up very soon! GVF welcomes all submissions relating to innovation in SATCOM. The conference will feature peer-reviewed engineering papers presented in a round-table format. The first conference will be in October in Washington. For more information, visit the conference web site or email gvfsupport@satprof.com.
Coming soon—the GVF Field Toolbox Smartphone App
Stay tuned for an announcement of a new smartphone app for field technicians and engineers: the GVF Field Toolbox, available free exclusively for current Knowledge Center subscribers and GVF 510 students. For complete information on the GVF certification training program visit http://www.gvf.org/training.